RiTangZhenShan 日湯真山 is a peak near southern Taiwan's famous BeiDaWuShan 北大武山. The hike to RiTangZhenShan begins at the same trail head for BeiDaWuShan but splits after about a 1.2 kilometers. I knew this would be a relatively easy hike, so I tasked myself with trying to reach the next peak, XueYeGenShan 鱈葉根山 that's located in Majia 瑪家. XueYeGenShan would be a completely different hike, one I wasn't sure if I would complete in time. Spoiler alert: I didn't.
Hike to the Crossroads
The trail head is in an odd location because of a massive landslide years ago. Before that happened, you could drive much further to a parking lot. But now you must stop a couple kilometers early and hike it. I didn't think to take a picture, but the trail head looks like this: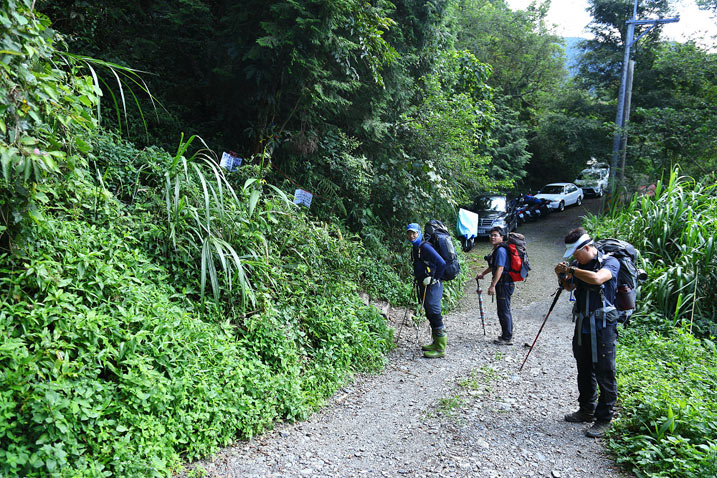 If you're looking for a relatively easy hike–at least in terms of safety–this trail will interest you. There is a very defined trail with ropes, stairs, and various other implements to help you along the way.
As you can see, I wasn't alone in the beginning. This group was headed to Beidawushan. I was stuck behind them until we reached an old road about 20 minutes into the hike.
The road lasted for about 500 meters before giving way to a trail again.
Let me say now that I picked a bad day to hike. The morning was nice and clear. But as I hiked closer to the peak, the weather gradually turned cloudy/foggy. The only view I had the whole hike was around this point early in the hike. And…it's not what I would call a 'view'.
Over the next kilometer or so I steadily hiked upwards.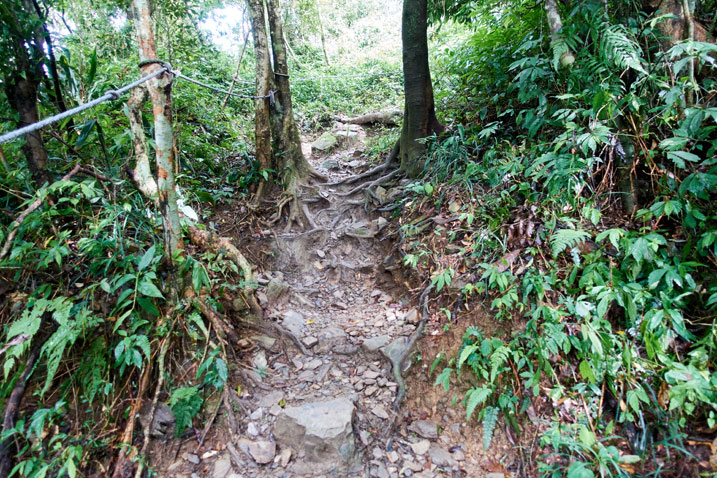 Roughly forty minutes after I started I reached the first "crossroads".
From here you can choose to go to BeiDaWuShan or RiTangZhenShan. I obviously chose the trail to RiTangZhenShan.
Trail to Second (and Third!?) Crossroads
The next thirty minutes (about 600 meters distance) were more or less similar to the beginning of the hike.
As mentioned earlier, the weather was changing…
This would be the last time I would see anything but fog. 😥
I arrived at the next crossroads but didn't feel like stopping for a break.
To my surprise, there was a THIRD crossroads about 100 meters beyond this point.
So there are three routes for a hiker to take to reach the Beidawushan trail head. Technically there are four routes. I've seen another trail that starts back at the beginning of the landslide. It appears to somewhat follow where the road used to be. It doesn't look very interesting, but I would hazard a guess that it's quicker (why else take that route?) if not somewhat more dangerous.
I had an 8 minute hike to the peak according to the sign above. Before heading off I took a moment to look through the "mountain lost & found". 😆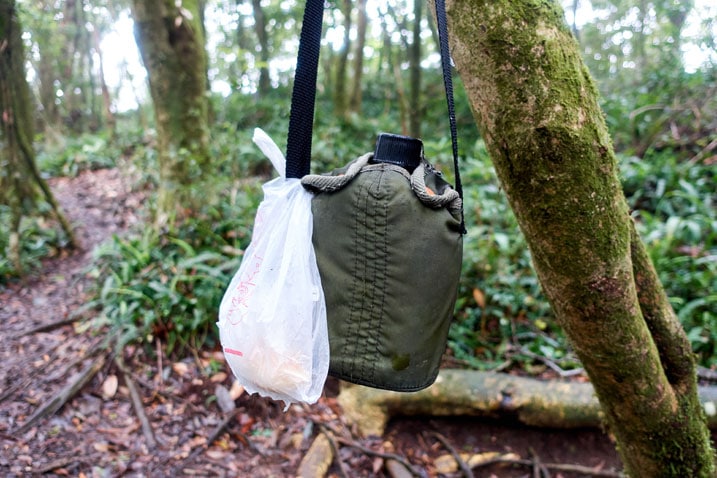 Trail to RiTangZhenShan
The beginning of the final push to the peak was more or less like the rest of the trail up.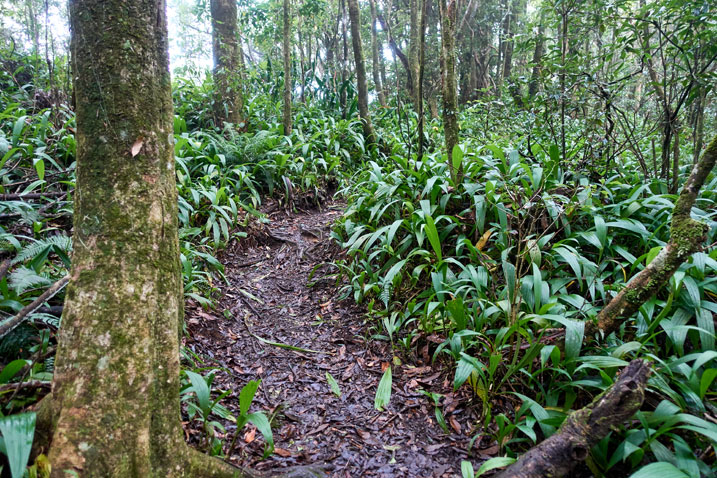 That is, until I reached the ridge. Then things changed a bit.
Just before reaching the peak there was what I thought was a radio tower or repeater of some sort. But it's listed as a "beacon". I don't recall seeing a light at the top. Maybe it's some other type of beacon.
And just around the corner is….the PEAK!
RiTangZhenShan 日湯真山
It's open at one side of the peak. I have to imagine that there's a great view from here. Because that's exactly what I had to do…imagine. 🙁
I was engulfed in the clouds and there wasn't anything to look at. Oh well…
I found a place to sit down to take a rest and eat a little.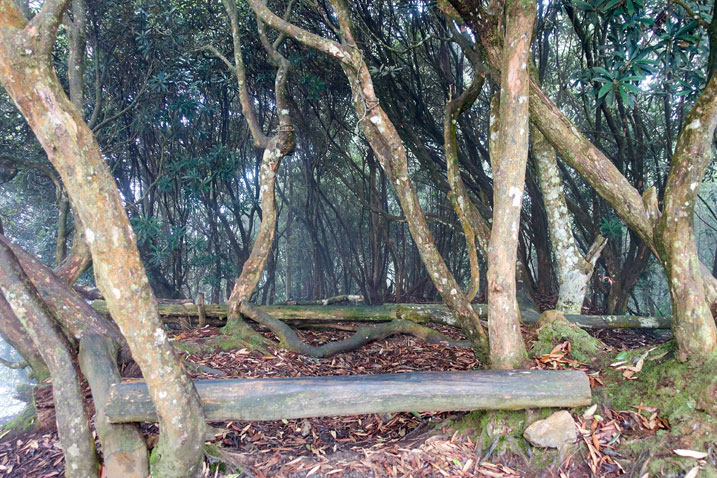 An older couple came along shortly after I sat down. I helped them take their picture together before gathering my stuff for the second half of my hike.
If you've read any of my other posts, this one probably seems a bit boring. That's probably due to the hike feeling mostly boring to me up until this point. There was zero thinking to do. You just step onto the trail and keep going until you reach the top. I don't much care for those types of "shut off your brain" hikes. It starts to feel more like exercising than hiking.
I hope that makes sense. Perhaps if there was a spectacular view when I arrived at the peak I might have felt differently. But as things stood, I reached the peak and wasn't too excited.
But things quickly changed once I had a look at the beginning of the next part of my hike.
Trail to XueYeGenShan 鱈葉根山 – Steep Sections
At the other end of the peak is this steep drop-off with a few ropes disappearing over the side.
There's nothing subtle about the beginning of the trail to XueYeGenShan. There's a stark difference from this trail to the one I took to get here. It's trying to tell you that it's not fucking around and not to take it lightly. And I sure as heck didn't.
I slowly lowered myself over the edge and started the downward climb.
There were three or four sections like this. Ropes were plentiful, but I didn't have much confidence in them. And that was a good thing, as you'll learn later.
It eventually leveled off and I thought I was clear of any more steeper sections.
But the mountain tricked me. It had a few more steeper rope climbs in store for me.
Fortunately, that was the end of the steeper drops. From here onward it was just 'normal' Taiwan jungle-ish hiking.
This was the type of hiking I'm used to. And, dare I say, enjoy? Yeah, I bitch and complain about it, but I think I really do like it. It's more dangerous, but also more challenging. The feeling I get from successfully completing more difficult sections (even those with no views) far outweighs those easier hikes with spectacular views. Yeah, I said it! I prefer shitty hikes with no views over simple hikes with great views. Hahaha…
Ok, back to the hike.
Hike to the Next Crossroads
I hiked a good 5.7 kilometers to another crossroads. It only took me an hour and a half. For me that's a great pace in these conditions. I attribute it all to the fact that it was almost completely downhill. I never really felt tired. And the temperature was cool, so I didn't overheat and stopped infrequently. One of those stops was for this tree.
It's one of those trees everyone likes to stand under for a picture opportunity. I didn't know if I would have enough time to reach XueYeGenShan, so I didn't want to waste time here. At any rate, I would be passing it on the way back. Surely I could take a silly picture then. 😛
Another two stops was to take pictures of these two stone markers.
The second one was shortly after a little climb – one of the few uphills in this section of the hike. The three stone markers I saw all had the lone 保 written on it. I asked around and the only answer I got was that it means that this forest is or was protected. Which would make sense, as 保 (Bǎo) is the first character for 保護 (Bǎohù), which means "protect". That sounds good to me.
Also along the way I stopped in a spot where I could hear a lot of birds chattering. I tried whistling the call of the Collared Owlet, which was taught to me by Richard on our hike in Maolin. And you know what? I worked!
It's not so clear, but this little bird came to investigate. See if you can spot it.
The Final Crossroads
When I arrived at the final crossroads I was feeling pretty good, but I was worried about my time. It was noon exactly. I had a good 5 and a half hours of light. I figured if the trail ahead was relatively easy going, I would have enough time. If not, then I would have to turn back early.
But before we get to that part, let's have a look at this crossroads.
To get here you have to go down a sort of rocky dry stream bed.
I made a mistake here and followed the wrong trail. One trail goes to the Old Wan'an Tribe (舊萬安部落). The other goes to XueYeGenShan. I followed the trail to the Old Wan'an Tribe and didn't realize my mistake until about ten minutes into it. No worries. I turned around.
I hiked back to the crossroads and took the correct trail this time.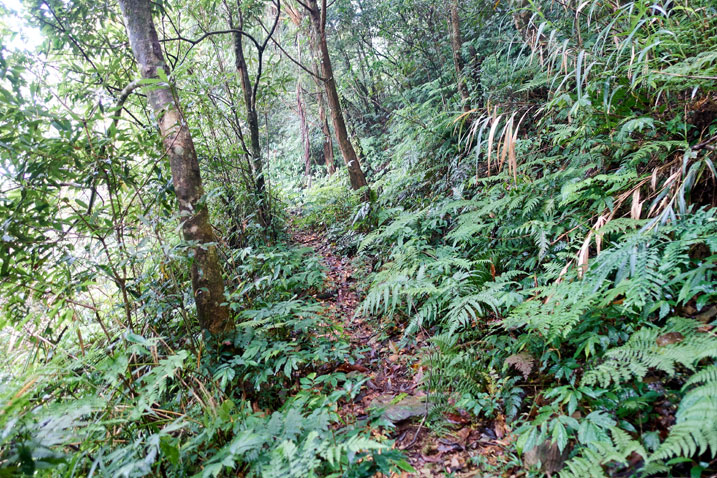 It started off easy going. I really thought I had a chance to make it to XueYeGenShan. But then I rounded a curve and was met with an overgrown mess of a trail that had me teetering over the edge of nice slope.
The trail was almost non-existent. I pushed on but I think it affected me mentally. I had no idea how long it would last. The last thing I wanted to do was hike through something like this at night. And I especially didn't want to hike those steep climbs in the dark. So I made a snap decision to turn around. 😥
The Hike Back to RiTangZhenShan
There's very little to note about the hike back. It was uphill. That part had been stewing in the back of my head for a while. My body wasn't fresh and I didn't think it would be easy.
As it turned out, it wasn't too bad surprisingly. I kept a good pace and made it back to RiTangZhenShan in about two and a half hours – and that was with a combination of 30 minutes rest along the way. Oh, and a longer-than-I-should-have-stopped photo op along the way. 😆
To be fair, I had JUST eaten one of those energy gel things with double caffeine. It kicked in right about when I got to the tree. I have about ten more of these pictures. hahaha…I'm an idiot.
One last thing I want to mention that happened before I made it back to RiTangZhenShan is about a rope breaking. On one of the steep rope climbs leading up to the peak, I grabbed a smaller rope to help pull me up over the edge. As I pulled…SNAP! It broke. My feet were firmly planted and my other hand was holding on to another rope, so I was fine. But it was a heck of a scare. Plenty of expletives came shouting out of my mouth. I'm sure anyone at the peak would have heard them.
I didn't take a picture of the broken rope, but here are some mushrooms instead…just because, well, I can't find a context to introduce them.
The Trip Back Down
You're probably wondering, if the trip up was so boring, why in the world would I write about the trip back down? That would be a good question.
I took a slightly different route down, but there wasn't anything particularly interesting about it.
At some point on the way down I became a little mad (as in, the British definition of mad).
(This is why I hike alone)
But no, that's not the reason why I'm continuing to write.
Along the way I saw a side trail that went up a small steep-ish section that looked well used. I had time, so I followed it…all of about 40 meters. There was this stone marker there.
It's listed as 水源保護區界. Ok, something to do with a water protection boundary. So what's the big deal?
This
This is the first time I've seen one of these with money on top. I'm sure it's not the only one, but it's the only one I'VE seen.
I asked around and couldn't get a definitive answer as to why people have been placing coins on top of it. One answer was to give it to the trail's caretaker. Another had to do with ghosts, spirits and gods – perhaps hoping it will bring them good luck while hiking. If you have another idea, do let me know in the comments.
Conclusion
And that's where I'll leave this hike. I made it back to my ride without incident.
If this hike was only to RiTangZhenShan I would have been sorely disappointed. I'm not saying it's a bad hike, but it's too easy and too quick. If there's a good view at the top then yeah, that's a great reason for you to hike it. Definitely go for it! (And I believe there is a nice view up there from what I've seen in others' pictures)
For me though, the highlight was the trail to XueYeGenShan. I don't recommend you try it unless you're fully prepared for it. And if you do hike it, please let me know how it went.
Date hiked: 2019 October 17
GPX Track Download Instructions: Click the track on the map to see the download link
I don't want to put up the partial GPX track to XuyYeGenShan, but here's a picture for reference.
Liability Disclaimer
Please read the Liability Disclaimer before using any information within this post, page or any part of this website.