I've been wanting to hike to JingBuShan 井步山 for quite some time. But, to be honest, I've put it off because I thought it would be too easy.
Located in Wutai Township 霧台鄉, JingBuShan is a flat-topped peak that can easily be seen from as far as Kaohsiung city on a clear day. At 2066 meters, it would seem to be worth climbing. So what about it seemed easy? When researching the hike, I saw a lot of pictures of families at the top – young children, dogs, 'normal' non-hiking specific clothing. Stuff like that. To be clear, I haven't hiked the usual trail to JingBuShan. Maybe it's tougher than I think. But my general impression is that it's not so difficult.
Now as to why I would prefer to hike tougher trails…maybe that's a post for another day.
So…JingBuShan…
While I was researching another hike I found another possible route on openstreetmaps.com
The usual trail people take begins down in the village named Ali 阿禮. This possible alternate trail begins further up the road at some business named 天竹嶺 耕心工寮.
My search for a GPX track only yielded one track. It followed the trail on the map above pretty closely, so I felt I could use it without worry. However, I did worry about this business. From the satellite shots and other info I found, the restaurant looks like a side business. It definitely appeared to be someone's residence. I worried about being able to access the trail on a weekday. A Google street view shot didn't help much; it didn't go all the way up the road, so I had no clue what to expect.
I figured I would take my chances and drive up there and see what I could find. But just in case, I had a few smaller peaks prepared as a backup plan. So, on a Wednesday morning I packed my bike and drove out to Sandimen 三地門 real early.
When I arrived at the spot above, I drove up the road and to my disappointment, I was greeted with a locked gate. 🙁
Looking at the GPX track I was going to follow, it seemed they somehow went around this place…or snuck through it somehow. It could just be an inaccurate track, or my device was displaying it wrong. At any rate, I wasn't going to be able to access the trail without sneaking through myself. Though the above sign did mentioned something about calling them. I briefly considered calling. But decided I didn't want to mess around with it. (I've had land owners ask me to pay a fee to get by their gate.)
I drove back down and headed towards the usual trail to JingBuShan. For some reason I really didn't want to do those smaller backup peaks. But as I had feared, there was an (open) gate and construction workers blocking the road. Approximately here. 22.741493,120.7444200
There has been a lot of construction past this point for several years and it's open on occasion, but not very often. It was looking like I was destined not to hike JingBuShan. But I wasn't giving up just yet.
On my way back down I searched for a potential spot I could use to make my way up the mountain to connect with the original trail I wanted to hike. This probably meant bushwhacking, but I didn't care. I wanted JingBuShan!
And would you believe it, I found something!
Just around the corner from the entrance to the restaurant was this little dry stream bed entrance. All around this area were PVC water pipes going here and there. I thought this might be an access point for the farmers to reach a stream to get their water. It was close enough to the trail I wanted to hike so I stopped and did a quick scout to see if it could work. And it certainly looked like it would.
I went back to my bike and got all my gear and headed back up.
If you find yourself in a similar situation and want to try this spot as the trail head, download my GPX track below and you should be able to find this place. It looks like this on either side.
I had no idea if this dry stream bed would take me anywhere, but from the PVC pipes I saw on the ground, I knew it would lead to something interesting.
The first thing I saw climbing up were all these tiers of rocks arranged like stairs.
This gave me hope. When I got to the top I found a makeshift camp off to the left.
You can't tell from this picture, but there's an actual tent inside all of those tarps. Given the amount of water paraphernalia scattered about, this was definitely a base of operations for someone channeling water.
From here I found a trail the went to the left and right. It was obvious I should go to the right; it went off in the direction of my objective. But my curiosity got the better of me. I took the path to the left.
I was confident this trail must lead to a water source. I knew if I found the main trail to JingBuShan it would probably be dark by the time I came back down. So any exploring had to be done now.
As I walked along, I got some of my first nice views.
I was hoping to find something interesting…and oh did I ever. But not the kind of "interesting" I would prefer.
As I walked along stepping up, my foot snagged on something. I pulled and I couldn't get un-snagged. Was it possible I had stepped in another snare!?
Would you believe it, I did!
This gave me pause. Where there are snares, there are usually leg-hold traps. After I untangled myself from the snare, my feeling for exploration went cold. So I turned around and carefully walked back towards the camp area.
A few minutes later I saw a chain on the ground. It looked exactly like the chains I have seen attached to leg-hold traps before. I used my hiking pole to follow the chain. It ended right in front of me. I brushed some leaves and debris aside and found a loaded trap underneath!
I walked RIGHT OVER that trap on my way up. Talk about getting lucky!
It's not easy to tell from this picture, but the trap is quite small. Had I stepped on it, I doubt it would have fully enclosed on my boot. It would have been a shock for sure! But I don't believe it would have caused any real damage to my foot. I really have a knack for stumbling upon traps. Here & Here…
If you do take this route up, be looking around for traps just in case. Hunters will usually mark their traps but these were unmarked. Given the location, I don't think anyone other than myself and this hunter/farmer has ever been in this area. So no hard feelings about the unmarked traps.
I walked back down and arrived at the camp area and followed the trail up the mountain to my objective. I didn't take any pictures, but let me describe how the next ten minutes went.
The trail was difficult to follow at times. It's obvious used very, very little. The beginning is a series of switchbacks that are easy to miss. At some point I just walked straight up the loose terrain and connected with one of these switchbacks. Several minutes later it stopped going up and headed right in the direction of the trail I was seeking. And guess what?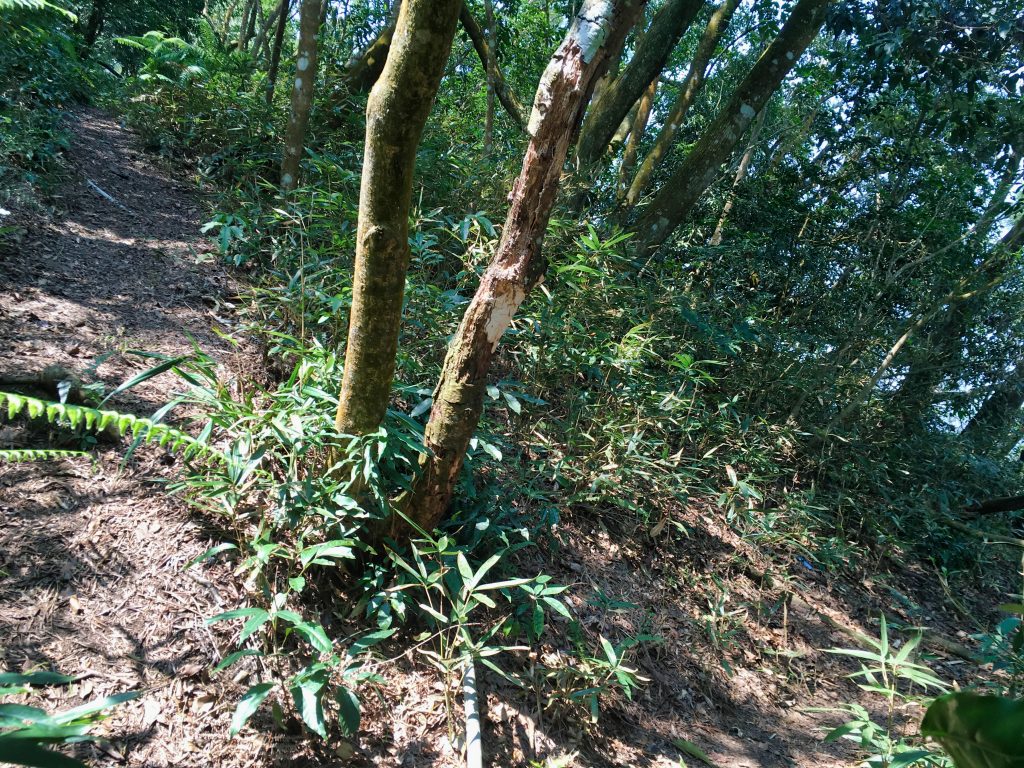 I made it!
This is where that side trail links up with the main trail. To the left goes up to JingBuShan; to the right, down to (presumably) the restaurant. I tied an orange marker ribbon here so I wouldn't miss it on the way down. I also tied a few on my way up that proved extremely useful on my way back down later that day.
It was now about 10:45am and I was just getting started. Or it felt like it. I wasn't sure how long it would take for me to reach the top so I didn't waste time going up.
I was real surprised at the trail conditions. I was expecting to be using my machete a lot since this isn't the main trail up. But I never once unsheathed it. The trail looked great and had markers from time to time.
My guess is that since the main trail is often inaccessible, people have been using this trail a lot more.
There were some rope climbs and a good deal of old PVC pipes in the beginning.
There was a little clearing at one point with these feathers tied to a rope. I'm interested to know what the meaning is.
A little ways beyond the clearing and I got my first look at Wutai village. Not the best look…but better views were to come.
And near here is where I got my first good look at JingBuShan.
I quickly came to another (overgrown) clearing.
This clearing was interesting because there was an overgrown road coming up from the east. I checked my map and it looks like it used to go down to the main road below. But now one of the large landslides has cut it off. It also appears to have crossed the clearing down to the west side of the mountain. I would bet there used to be farmland over there.
I pushed on and again got another view of Wutai…after a little edge-of-the-mountain rope assist.
Everything seemed to be going pretty good. The trail never really leveled off for any decent amount of time, but its conditions were still good.
About an hour in I came across this little campsite.
And then found these sunglasses. Anyone want to claim them?
About an hour and forty-five minutes after linking up with the main trail I arrived at a great spot to take a rest. It's also in a perfect position to stop when you're coming down. While you're here, explore the area facing Wutai village. There's a nice little overlook off towards the back there.
Some cable tied up to the tree for whatever reason.
From here the trail turns to the southwest and becomes more "ridge-like". It's still easy to follow, but it's a little more technical than the trail coming up.
It took me a good hour and a half from the start of this ridge to get to where the trail meets up with the usual trail people take to JingBuShan. Along the way I got my best view yet of Wutai below. Unfortunately the weather was getting cloudy.
This really could have been a great shot. Oh well…
I also found this tree that looked like someone was writing Chinese characters on it; from far away at least. I guess it's some type of bug eating away at it. I've seen it a few times before.
The trail got a little more 'wild' just before the link-up, but it wasn't so bad. Just rocky in one place and some taller grass throughout.
And here's where the two trails meet.
From here the trail is the same as if you took it from the Ali trail head. A five minute walk and you arrive at some rest area.
And in under ten minutes…
The peak!
There's a lot to see up here. First and foremost being this metal cage-like thing. I've seen a lot of pictures of people climbing it to get a better view from the top. This is the ONLY way to get a good view from the top. At ground level the trees prevent any kind of view. I would have climbed it, but I would have had no view as the visibility was zero. 🙁
Other things to see up here: this large rock put here by the local Christians.
There's also a stone "table" and "chair".
But the thing that caught my eye was this nice little bench next to some signs. Aaaaaahhhhh….exactly what I needed.
After a nice long rest and a good meal, I took my peak picture.
Oh, the poncho? No, it wasn't raining. But it got a bit cold up there and I didn't bring my jacket. That poncho works just as good, if not better than my usual jacket.
One thing I was very interested in seeing is if there was a trail leading from here to TianLiangJingShan 田良井山. When I went there in May 2018 I saw a trail that looked to be going in the direction of JingBuShan. I couldn't find a GPX track of anyone who has hiked it, so I wasn't sure if a trail existed. So…did I find one? Yes!
I would like to hike it sometime. If I could start from the JingBuShan side from the Ali trailhead I believe I could do it in one day. From the JingBu peak it would be entirely downhill. The only problem with this plan is getting a ride to the trail head (using my bike wouldn't be a good idea) and finding a day when I know for sure they are letting people through to hike from the Ali side. There is no way I would want to hike this alternate trail first and then down the other side.
The hike back down was unremarkable for the most part. It was getting darker and none of my pictures turned out well. I really need to get a decent camera.
I made it all the way back down to the intersection where I hung the orange trail marker right when it was too dark to continue without a headlamp. I put it on and made my way down to my bike. I got lost a little, even when following my own GPX track. A couple of the marker ribbons I hung came in real handy. But I basically made a new trail down. I found the "water campsite" and followed the dry stream bed back to my motorcycle. It was now close to 7pm and my hike was over.
My bike sat untouched on the side of the road all day. That's one thing I love about the Taiwan mountains. Nobody messes with your shit.
I would recommend this hike to anyone looking for a hike that will take most of the day and have some decent views along the way. There is no water source so make sure you bring enough. The nice thing about this hike, is if worst comes to worst, you can always take the more popular trail back down to Ali village and walk the road back to wherever you parked. That would likely cut a decent amount of time from the trip.
Date Hiked: 2019 April 03
GPX Track Download Instructions: Click the track on the map to see the download link
Liability Disclaimer
Please read the Liability Disclaimer before using any information within this post, page or any part of this website.