September was a month of backup plans and failed hikes for me it seems. First I couldn't make it to MuDanLuShan 牡丹路山 and went to ShiMenShan 虱母山 instead. Then the following week I had a problem with my hike to QiLuZhiKeShan 耆路知可山 and decided to turn back. Last week I planned to finish QiLuZhiKeShan but ran into two problems. On my drive down I had a flat!
That wasted about an hour of my time. But it was OK. Because on my way down from QiLuZhiKeShan the week prior, I found a trail I could drive up that would save me an hour. So I was still good.
When I arrived at the spot where I needed to cross a river to head up the mountain, there was a crane blocking my path. This is where they're building the new faster route next to the #9. There was another place I could have accessed the mountain road, but guess what? There was a crane there too. Go figure!
Backup Plan
My backup plan was NuRengShan 女仍山. I didn't know it at the time, but it's one of the XiaoBaiYue – 小百岳. It was a ten minute drive to the trail head. When I arrived, I drove up the walkway as far as I could go and parked.
After I put on my gear and secured the bike, it was about eleven thirty. From the GPX track I was following, I had about two and a half hours to reach the peak from where I was parked. I felt I had plenty of time to hike to the top, take a nice rest, and then come back down before dark. Somehow I miscalculated…or it was more difficult than I had anticipated. It turned out to be closer to three and a half hours.
The Hike
I followed the brick-laid path up the mountain. From the fence on my right and the bricks under my feet, I surmised this must have been built up by the government years ago – and never touched since. I bet it was pretty nice at the time. But now…ugh. It has been neglected for many, many years and it shows. Thankfully the trail itself is in decent shape and is easy to follow. It's obviously hiked regularly, no doubt due to its XiaoBaiYue status.
I was hit first with a somewhat steep series of rope climbs.
I was worried there would be a lot of steep climbs like this, but it soon leveled off and I found myself on a dirt road.
This was still part of the established trail judging by the thick ropes tied up to the trees for most of the length of the road.
The road continued for a bit before it narrowed down to single-track.
There were several spots to catch a decent view along the trail.
Around here is where I kind of got my first look at my objective. I thought it was the peak on the right, but it's more towards the middle of the picture and back a bit. You can't really see it from here clearly.
The trail made a turn and followed a stream that I could hear below. You could get a glimpse of it from time to time.
The trail became narrower and was somewhat broken in places. The stream was to the right and there was a steep drop-off for most of this section. There were ropes along the rock-face to assist when needed. But a lot of these ropes were old and often hidden in the dense overgrowth. The trail was overgrown at times too.
And sometimes no growth at all. 🙂
I could hear that the stream was getting closer as I hiked. There were a few places one might be able to climb down to the stream (one place had a rope) but there's no need for that because after about an hour's hike, the trail connects with the stream.
NuRengShan Stream
The stream was a refreshing surprise. I was happy to spend a few minutes to cool down and to take some pictures.
One silly problem I had was crossing the stream. There was a fair amount of water and no easy place to cross without getting my feet wet. My boots were on nice and tight and were feeling good on my feet. The last thing I wanted to do was take them off to cross, but it seemed I had no other choice.
When I got to the other side there was a rope to climb up to the other side.
I thought that would be the end of the riverbed…
…but I was wrong.
The trail linked up with the stream for a short distance before breaking off back into the trees. It didn't last long though; I was back in the stream until it split. The stream bed with the water went in one direction but a hiking ribbon told me to follow the other stream bed.
Dry Stream Bed
This stream bed was dry and wider than what I was just on. It was covered by trees that cast a nice shadow that made the length of the stream bed feel somewhat surreal.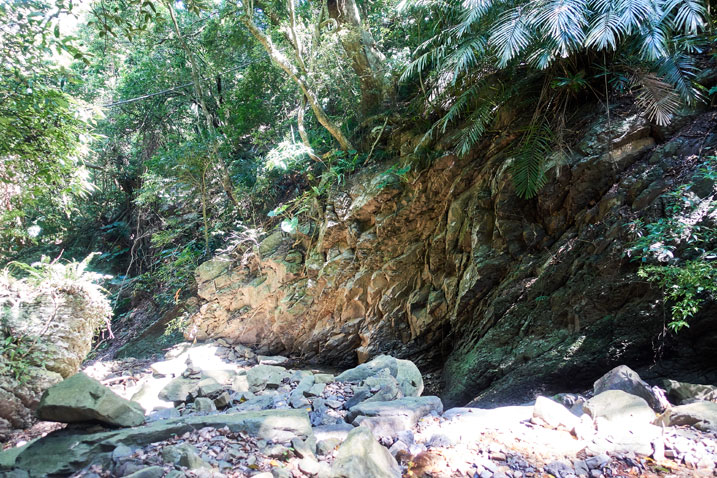 If you look at the first picture above you'll notice a PVC pipe hung over the stream bed. I saw these strung up all throughout the hike until the stream bed ended. I think these are relics from a bygone era. It's possible some of them are still in use, but you'll usually hear a spraying sound when one of them inevitably springs a small leak.
The Climb
This is where the trail tricked me – badly. The hike up until this point was relatively easy. I let my guard down. Mentally I wasn't prepared for what was to come. Not long after exiting the dry stream bed I found this abandoned umbrella.
I should have taken that as a warning of sorts. Maybe someone coming down from the section I was about to hike couldn't take it anymore and cast it aside. They were too tired. Perhaps they ditched their backpack and it was off in the trees somewhere. It was all just too much for them.
Ok, probably not. Their umbrella broke somehow and instead of doing the proper thing of taking it with them, they discarded it on the trail.
But for real…I wasn't ready for the climb to come.
The trail started out flat.
There was a little rope climb, but it wasn't a big deal.
Followed by another flat section.
And then it started…
It's not easy to show the steepness of these climbs in my pictures. They just can't show the depth well enough. But let me tell you. It got steep.
This is the best picture I have to give you an idea.
Or perhaps this will help. This one is looking down with the camera pointed down. The second picture is with the camera pointed straight ahead. The trail is gone. (I'm hoping that paints a better picture)
So my point is…it was steep! And this continued for far longer than I would have liked. It wasn't as tough as I thought it would be, but that coupled with the next section kind of sucked.
But eventually I made it to what I thought was the ridge.
It was quite a relief to be hiking on a mostly flat trail.
My suspicions that this was the ridge was confirmed when I saw the other side of the mountain. It's difficult to make out in the picture, but I could see the ocean from here.
At this point I thought the worst was behind me. But I couldn't have been more wrong. A couple minutes later I hit a wall over overgrowth.
There was a clear trail through it, but it was difficult to follow at times. I snaked my way through, but it just got worse.
Surprisingly I didn't need to use my machete. As bad as it was, there was a path you could follow. It was easy enough if you payed attention. I followed it until I caught sight of something interested at the top of the mountain.
I thought whatever that metal structure was must be where the triangulation marker is located. I was definitely close. And that's when it happened.
Scary Encounters
Not long after the above picture I had stopped to consult my GPX track. Just as I was about to start moving forward, I heard something…and it sounded BIG. And it was directly in front of me.
This next part happened all in about two seconds. I thought to myself that it must be some kind of animal. Whatever it is, I don't think it will be happy to see me. Maybe it will be frightened. Maybe it will attack. Who knows?
With one hand I reached for my machete and started unsheathing it. With the other hand I parted the tall grass in front of me. And that's when I saw it…
A Taiwan HUMAN!!!!
Hahaha…it was another lone hiker. And he scared the crap out of me! I said something like, "You scared me." in Chinese and had a laugh. I totally wasn't expecting another hiker to be on this trail during the week. That's for sure!
He told me that the trail gets worse ahead and I need to be careful not to lose my way. He mentioned if I'm not sure, I can duck my head down below the grass to find the trail. That's pretty much what I was already doing, but it was a nice reminder. He also mentioned I had about an hour to go until I reached the peak. Now THAT was disheartening to hear. I thought I was much closer than that. At any rate, we said our goodbye's and I continued on.
Final Push
After more and more of that terrible tall grass and plants I finally made it to some tree cover.
This took me to that metal structure I saw earlier.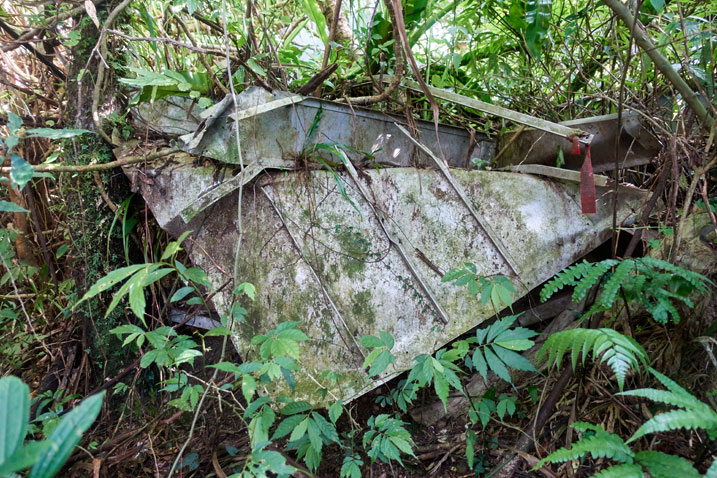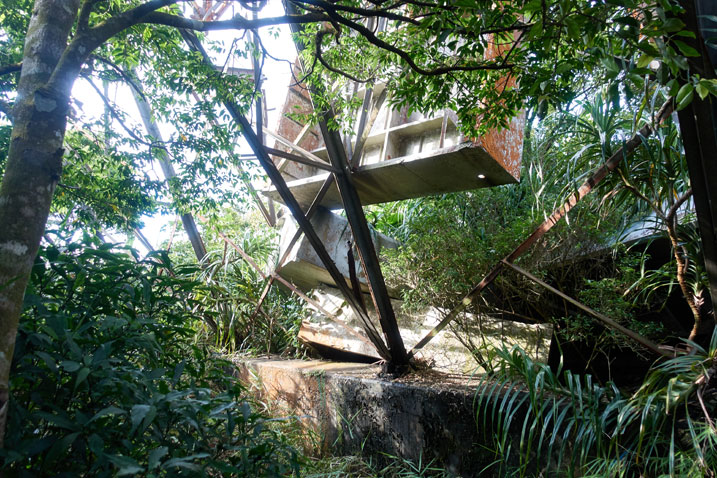 I haven't the slightest clue what is was used for. My guess would be something related to communications. Most structures you find on top of the mountains here are either a weather station or communication related.
I had pushed myself hard to get to this point and I was really disappointed to learn that the triangulation stone wasn't here. I still had about 300 meters to go and I wasn't about to stop. So I made my final push…
and finally made it!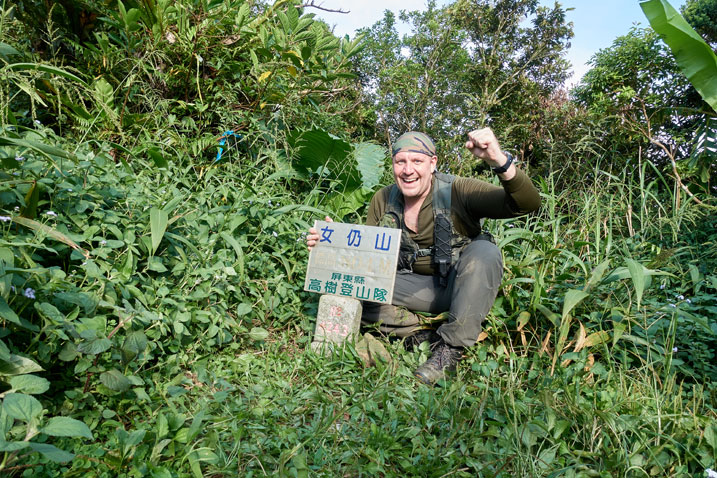 The Peak
The above picture was taken just before I left. When I arrived I was in no condition to do anything but drop my gear and sit on the triangulation stone. I was beyond spent. I drank up 800cc of a power drink and tried to force down some food…but I could barely eat. All I could do was sit there for about 20 minutes and not move.
The only thing I could think about was time. It was just after 3:30 and I knew I couldn't stay long. I didn't want to hike the steep section and stream bed in the dark. I figured at best I would have about 40 minutes to rest up here before going back down.
The time went quick. But gradually I starting feeling better – good enough to get up to take some pictures.
The place was littered with ribbons.
It's almost faded, but I'm sure it says the mountain name and elevation and maybe date.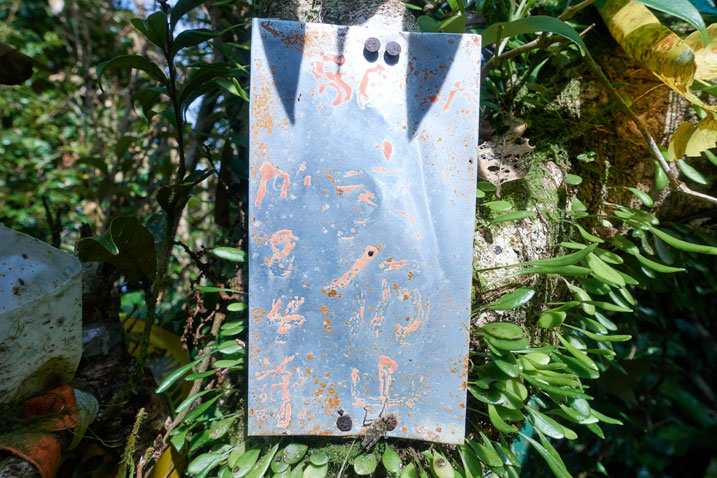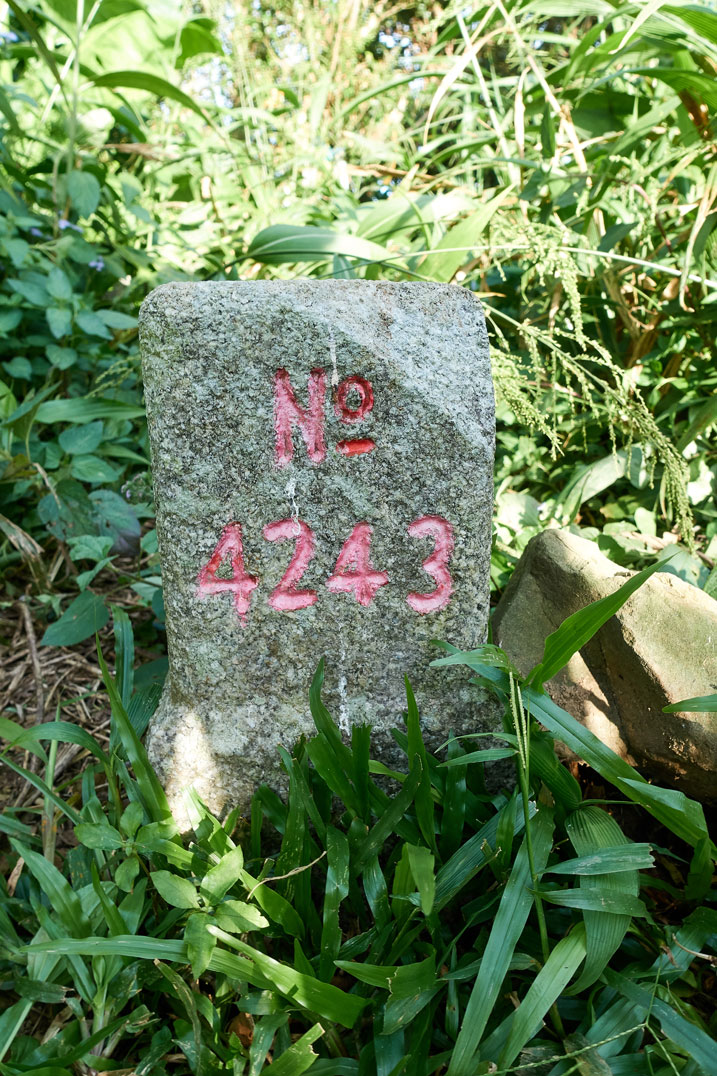 This old style marker was off to the side. I almost missed it.
There WAS a view at the top looking west. But with the sun over in that direction, I couldn't get the best of pictures.
Back Down
The trip down wasn't so bad. The tall plants still sucked, but I managed to get some nice views. I'm not sure how I missed these on the way up.
I also noticed this religious item tied to a tree. I've seen similar items on other hikes.
After I left the ridge I started that steep climb down. I pushed myself to try and make it past the stream bed before dark but I didn't quite make it. About halfway through the stream section I had to put on my head light. This is where things got more interesting. All the little night dwelling creatures came out to say hi.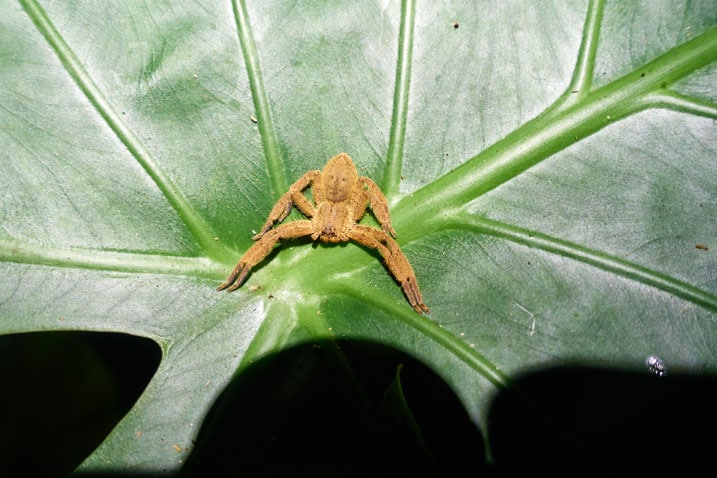 All went smoothly after I left the river. I reached my bike, stowed my gear and drove down the mountain back home. My rear tire didn't give my any problems.
Final Thoughts
This hike is actually not bad. I'll say now that I don't ever want to do it again. But that's not to say that it wasn't good. I can kind of understand why it's considered a XiaoBaiYue. It throws a little bit of everything at you. It has decent views and some challenges. Definitely give it a shot if you're down south.
Date hiked: 2019 September 26
GPX Track Download Instructions: Click the track on the map to see the download link
Liability Disclaimer
Please read the Liability Disclaimer before using any information within this post, page or any part of this website.