Tjuqemadris is an abandoned aboriginal village located in south Taiwan in Shizi Township – 獅子鄉. Villagers there were forced to move to NanShi Lake – 南勢湖 in 1942, along with neighboring villages Tjuzanqau, Tjaljaviya, and Maljuqau. NanShi lake is roughly 62 kilometers away as the crow flies. It would be much further using roads. I believe this is what spelled the end for the village of Tjuqemadris.
The villagers of some abandoned villages I've visited were moved relatively close to their old village. It's obvious their decedents will visit and take care of what's left of the villages from time to time.
However, this is not the case for Tjuqemadris. As you will soon see, it's currently being eaten by the jungle.
But let's first get to the trip to the village, as it wasn't an easy one.
The Trip
In a rare move, I left on a Saturday morning to try and find the village. I try to avoid weekend trips because, well…I'm selfish. I like to have the mountains all to myself. Sure, I'll see farmers at the beginning of my trips and a hunter or two on rare occasions, but by and large I'm completely alone out there. However, with all the rain we had over the week, it was a Saturday trip or nothing.
When I reached the mountains it was shaping up to be a beautiful day.
Unfortunately I broke the LCD screen of my camera on my last trip, so most of my pictures came from my phone.
Originally I had thought I would need to hack and slash my way up the ridge-line of the mountain the village is located on. But I noticed that Google maps showed a road coming up from the Nanhu Basin Waterfall Group going directly by the village.
I had driven nearly all the way to the waterfalls last year, so I knew I could probably drive at least that far. But I thought it was a long shot that the road would exist beyond the river. I did however look at some old maps and found that yes, there used to be a road network out there. You can see the road in dashed red and black colors when you move the slider back and forth.
So worst case, I would be hiking an overgrown abandoned road. That sounded WAY better than hacking my way up the mountain.
The Trail
There are farms and power line transmission towers all around the area. So the road was concrete for most of the drive. It turned into a trail towards the end, just a few kilometers before the falls.
It started off looking decent…
…but later switched to single track and became somewhat overgrown, though not really bad.
Along the way there's an old sign and later the remains of a simple gate to bar entry.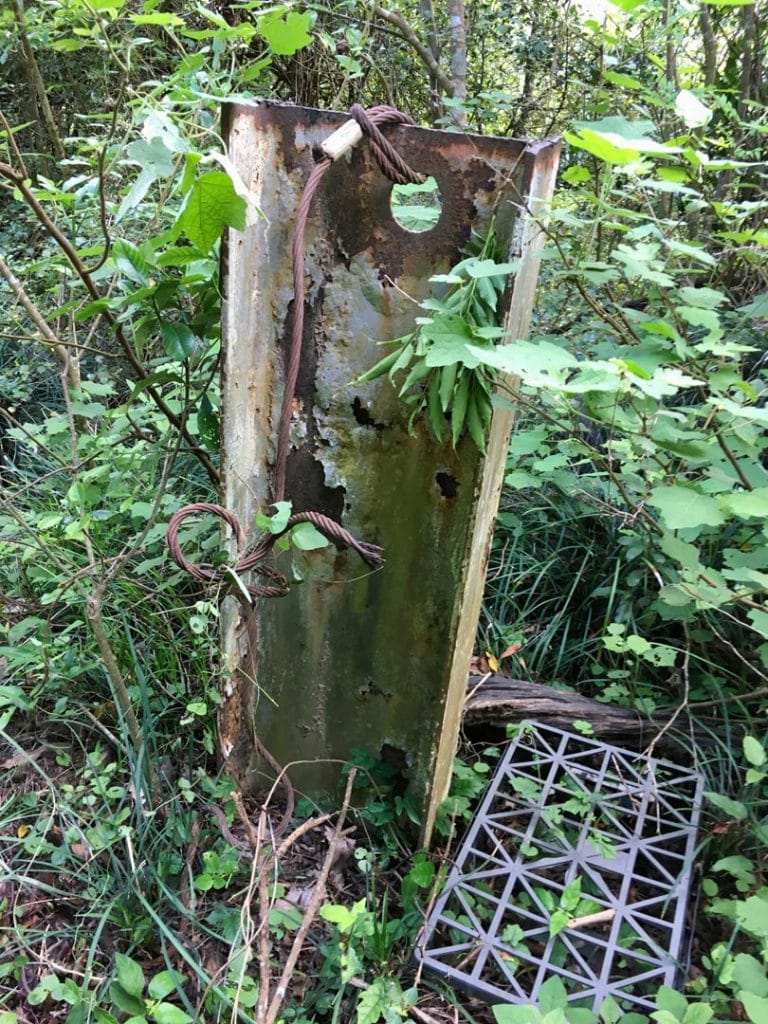 Notice the plastic object next to the gate. It's an old rat trap. I found another one later on the trip. More on that when we get there.
I drove until I reached a small, dry mountain stream bed. That was the end of the line for my motorcycle. It looked to have been washed out pretty good. There was no way I could hope to cross it, even on an offroad motorcycle. So I dismounted and prepared for a hike. (sorry, no picture)
The hike was pretty easy. The trail was nice in some spots and overgrown in others. But overall I didn't have a problem with the next 1.5 kilometers of hiking. Here are some pics along the way.
Somewhere between my bike and the riverbed I found a trap.
It was slung up over the trail. You need to walk under it to pass. I'm assuming it's some type of spring loaded snare trap. It didn't look like it could harm any passers-by, so I left it alone.
One final downhill and I was almost to the riverbed.
To help me get to the riverbed, I downloaded a GPS trace from FollowXiaoFei's website. As I neared the riverbed, there was a landslide that blocked the original trail. I walked down the landslide a bit and found a new trail that linked up to the riverbed. If you're going to the falls, I wouldn't worry about this. It's easy to find your way to the river.
The Riverbed
The river wasn't flowing much, but there was plenty of water and a lot of little fish.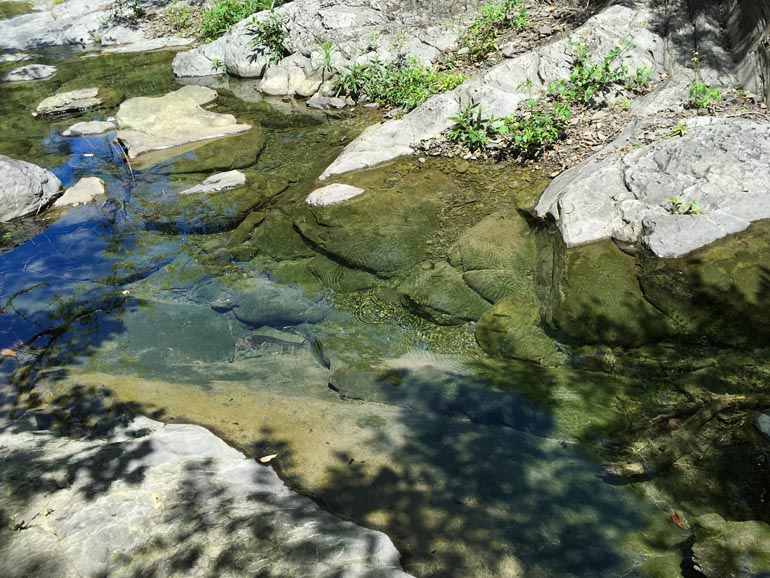 As you can see, it was also quite mossy. I had to take care not to slip as I crossed the river.
I wanted to explore the waterfalls, but they didn't look very close. My main mission was the village, so I set off downriver to try and find where the road picks up on the other side.
I didn't go far until I saw what I thought was where the road came down from the side I entered the river on.
Looking across the river, I couldn't see an obvious path where it went up the other side. So I made a rough guess and eventually found what might have been the road. I followed it for a bit and then came to a massive landslide.
It slowed me down but wasn't too difficult to walk through. I think the original road cut up where the landslide is now. When I came out at the other end it obviously wasn't a road I was following. It was a little steep, but I knew I needed to climb up if I wanted to find the road again. After a couple minutes in climbing mode, I reached the road!
The Road
I realize it doesn't look like much. But it was definitely an old road, and I could follow it somewhat easily. It was difficult to discern, but there was an ever-so-slight of a trail to follow. I thought maybe it was a game trail, but about an hour later I found a loaded hunter's trap. So this trail really was a trail…made by humans.
This is the first time I've seen a trap like this. At first I didn't know what to make of it. I gave it a wide berth and continued on my way. Over the hike I found three more of these. One had been tripped so I took the opportunity to see how it was constructed.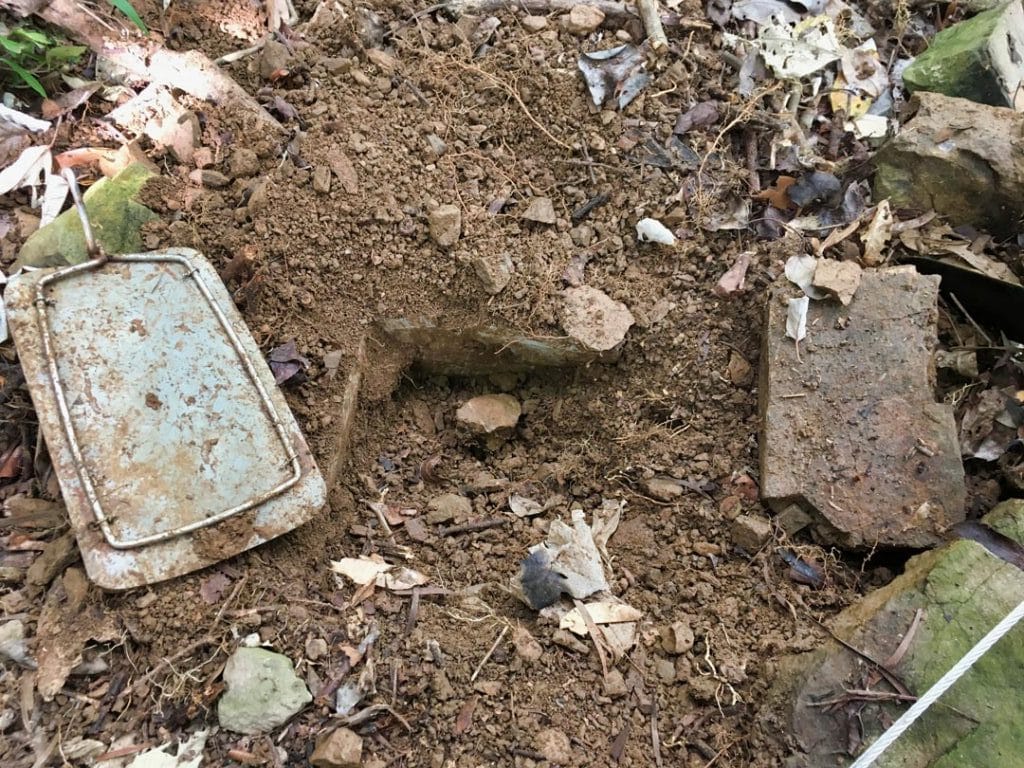 What they did was dug out a rectangular hole and put a thin piece of metal around the sides, like this one I found lying on the ground earlier.
I'm guessing that's to keep the sides from caving in, or it's part of the system to help keep the spring loaded. On top was that metal plate. The cable (the snare part) is somehow positioned on top of everything, and then covered. For curiosity's sake, I'd like to be taught how these are made. And for the record, this trap had obviously been tripped and nothing was attached. I generally don't mess with the traps I find in the mountains. The last thing I want to do is to start tripping a bunch of traps in the mountains and one day run into one of the (likely very pissed off) hunters.
The hike continues…
The hike along the road was easy in some places and difficult in others. You couldn't go in a straight line; you had to weave in and around trees and various types of vegetation.
But occasionally the road was without obstacles.
Unfortunately sections like this were rare. At one point there was a lot of tall grass that I couldn't easily get past. I made my way up and around it for a good 20 or 30 meters. While doing that I heard a wild boar nearby. It snorted a bit and quickly headed down the mountain. It appears that hunter knows where to hunt.
On this side of the mountain I could look across and see the mountain I had driven in on.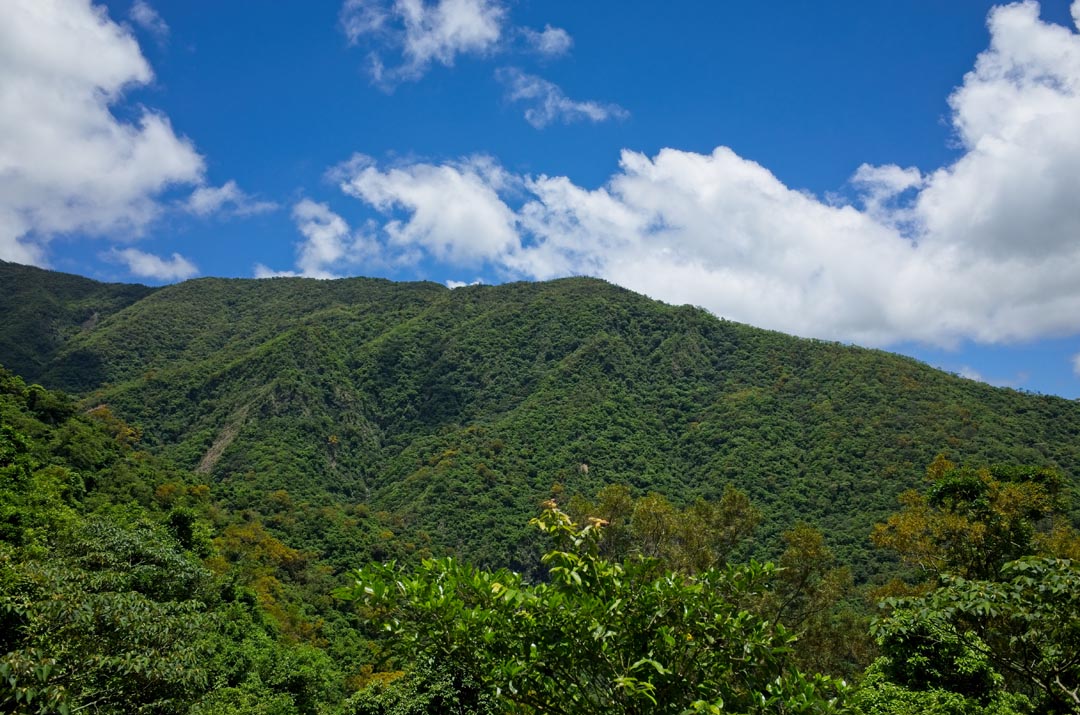 My bike is parked somewhere in all that.
I was getting close to the mountain's ridgeline. This is where the trail turns and goes up the other side of the mountain. I was hoping I would get a decent view here…and I wasn't disappointed.
Well, maybe I was a little disappointed. The trees were blocking most of the view. But I could still see the road I drove in on, as well as the ocean beyond. You can't see it in this picture, but Xiaolioqiu island – 小琉球 is just to the right in the blue ocean. The trees are blocking it.
The ridge offered an open area that looked decent for camping. This is also where the road split – one road went down and one went up.
The road going up appeared to be the correct direction, so I followed it. About 20 minutes later, I found the first pieces of the village.
There wasn't much here. But it appeared to be a house or some sort of structure. I also found this old rat trap. I find a lot of these in the mountains.
I looked around the area, but I couldn't find anything else. The houses in these villages are often scattered about the mountainside; I thought if I walked further down the road, I would eventually run into the main village area.
I hiked and hiked but never saw another sign of the village. The road was about to curve and presumably go up the mountain a bit. I thought that maybe the village could be accessed from there. But when I got to the turn, one road went down the mountain and the other wound around, but not up, the mountain. It didn't seem like there was a way to access the village from there; I had definitely gone too far.
Break time!
It was around 1:30pm and I hadn't eaten yet. The spot where I was standing had a nice breeze, was open, and had a nice tree blocking the sun above. It was a perfect place to eat and take a break. This trip I had brought my camp chair, so I was in a mini-heaven sitting there versus the ground like I usually do. Sorry, no pictures of that – not that you want to see me eating lunch.
The Village
I doubled back after eating to take another look. Nothing I saw looked like it belonged to a village other than those rocks I found earlier. It was beginning to look like this trip was going to be a bust! So my new plan was to go back to the waterfall area and spend some time there.
As I was hiking back down the road, I noticed what could have been a road/trail heading up the mountain. It was difficult to tell, but it might have been. I followed it up, hacking and slashing a bit with my machete. When I got to the top I saw what I came to see…more of the village!
There was also another rat trap and a lot of fallen bamboo.
I climbed up the mountainside and found more and more of the village.
Every direction I turned revealed some part of this lost village.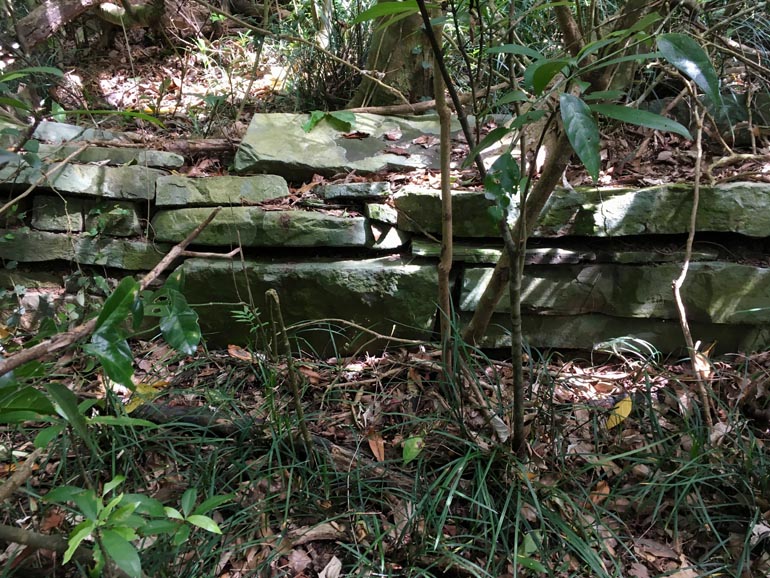 Tjuqemadris was in terrible shape. It was obvious that nobody had been here in a very long time. It was very difficult to move around in places. There were a lot of what I like to call "Hell Spikes" everywhere I turned.
These large ones aren't so bad. You can easily cut through them or just avoid them altogether. However, there are smaller vine-like spikes that grow out from the main plant that grab you and do not let go! THOSE are the terrible ones. I hate them with a passion. And this place had a fair amount of them.
I didn't let the hell spikes deter me though. I cut my way through the village and kept finding more of Tjuqemadris.
I saw what at first appeared to be some type of "prison" in the distance. The idea of a prison being out there and still intact after all these years sounded absurd. But hey, maybe there are some weird people living out there now who like to imprison lone hikers. The thought did cross my mind. Haha…
But as it turned out, it was just another bunch of fallen bamboo.
I continued exploring and snapping pictures of just about everything.
One thing that caught my eye (other than a rogue hell spike…yeah, for real…) was this structure.
A person could get inside there. But I'm not sure if that's what it was meant for. Having been in the military, the first thing I thought was some type of defensive position. But that seems doubtful given it's location, and that the "window" was facing UP the mountain (where there is no road). On the other side of this structure, there were all these stacked rocks.
Perhaps this is where they kept their spare stones? Just a large pile of stones for the villagers to take whenever they need them? I would love to talk with someone who could explain all this, as I really have no clue.
I found another one of those plastic rat traps like I saw next to the gate on the way here.
It has a metal door that will swing shut when the rat enters. At the back of the cage is an old metal can that probably used to have the bait inside.
Leaving
It was around 3pm and I knew I had to be going soon if I was to make it to my bike before dark. Here's a quick video I made of one part of the village as I left.
It felt eerie walking around Tjuqemadris, but very cool at the same time. To think that people lived here a hundred or two or three hundred years ago…born, lived and died here…wow! And now it looks like this. It's kind of sad to think these people were forced off their land simply so it would be easier for the government (Japan at the time) to keep track of them.
I left the village and hiked back to the waterfalls. Along the way I noticed a trap I hadn't seen on my way up.
Believe me, I have no idea how I could have missed this one! I must have walked right over it because it's located in a bottleneck. Either I stepped on it and it didn't work or I got lucky and missed it. Perhaps my size 13 was too large to set it off. 🙂
I took a different route at the end. I tried following the road to see where I missed it on the way up, but it became ridiculously overgrown and I didn't want to deal with it. So I found a nice spot and "surfed" my way down the mountain until I reached the landslide.
It wasn't long before I made it to the river. I followed it up to see if I could view one of the waterfalls. This nice pool was as far as I made it.
I climbed to the top to see how far the next falls were. But they seemed too far considering the little amount of time I had left, so I turned back.
I left the falls area and hiked back to my bike without incident. As I drove back, the mountains offered more nice views.
And as I neared the "exit" it was nearly dark.
Final Thoughts
I don't think I would recommend that you visit Tjuqemadris unless getting down and dirty is your thing. Hiking to the Nanhu Basin Waterfall Group might be more civilized for most people. But if you are interested, download both of the GPX tracks below and good luck! The second track is a small track showing the path I took from the road to the village. I had turned off my GPS when I took a break to eat lunch.
Date hiked: 2019 June 01
GPX Track Download Instructions: Click the track on the map to see the download link
Liability Disclaimer
Please read the Liability Disclaimer before using any information within this post, page or any part of this website.