BeiHuLuShan is a nice hike for anyone looking to do something that isn't too easy but not too hard. There are ropes, ribbon markers, and a trail that is easy to follow.
Located in Chunri Township 春日鄉 in Pingtung 屏東, BeiHuLuShan is the north peak of the mountain I hiked the week prior, 南湖呂山, NanHuLuShan. They are both connected by a ridgeline that can be hiked. From what I've seen, people will hike to BeiHuLuShan first and then make their way to NanHuluShan. In theory this can all be hiked in one day. But I'm not sure what the conditions are like between the two peaks. If you decide to try it, I would consider an overnight hike just in case. Especially since it might not be easy to have transportation waiting for you on the other side.
The road up to the trail head is sometimes concrete and sometimes dirt. A car can make it most of the way but might need to stop when the trail becomes narrower. A motorcycle won't have a problem though. The trail begins near some type of farming structure. Sorry, I didn't take a picture.
You'll need to go around the structure to the right side and then up a singletrack trail. I was able to ride my offroad motorcyle up a little ways and find a secluded parking spot. It would be possible to drive a good deal up the trail if you wanted to. But for me that day I was looking for a hike.
The singletrack trail in the beginning was a little messy, but not so bad.
Later it looked as if a few people with machetes had been hacking at the sides of the trail.
This trail definitely used to have been a road. I later found evidence of farming activity up here. I believe the road used to get you pretty close to the peak. But as of now, it's for hiking only.
The views on the way up aren't the best, but they're not terrible.
You can also get a view of the south peak, NanHuLuShan. It's the big hump to the right of the tree.
At a certain point the trail becomes very pronounced and easy to follow.
At roughly the halfway mark you'll find a little "rest area".
I didn't really need it at that point, but it was a welcome sight on my way down.
On the way to the top there's some ropes to help you cut up from a couple switchbacks.
And as I had mentioned, there are enough marker ribbons around to guide you; not that you'll need them. But this was a first.
I've never seen a laminated marker before.
The rest of the way was pretty standard. There was nothing terribly interesting to see.
Eventually you get a view of the peak.
Well, kind of a view.
It gets steeper towards the end.
And right before the peak you run into one of those old (triangulation?) points.
Someone had placed a metal plate on top of it. I have no idea what it's about.
A short hike later and I was at the peak.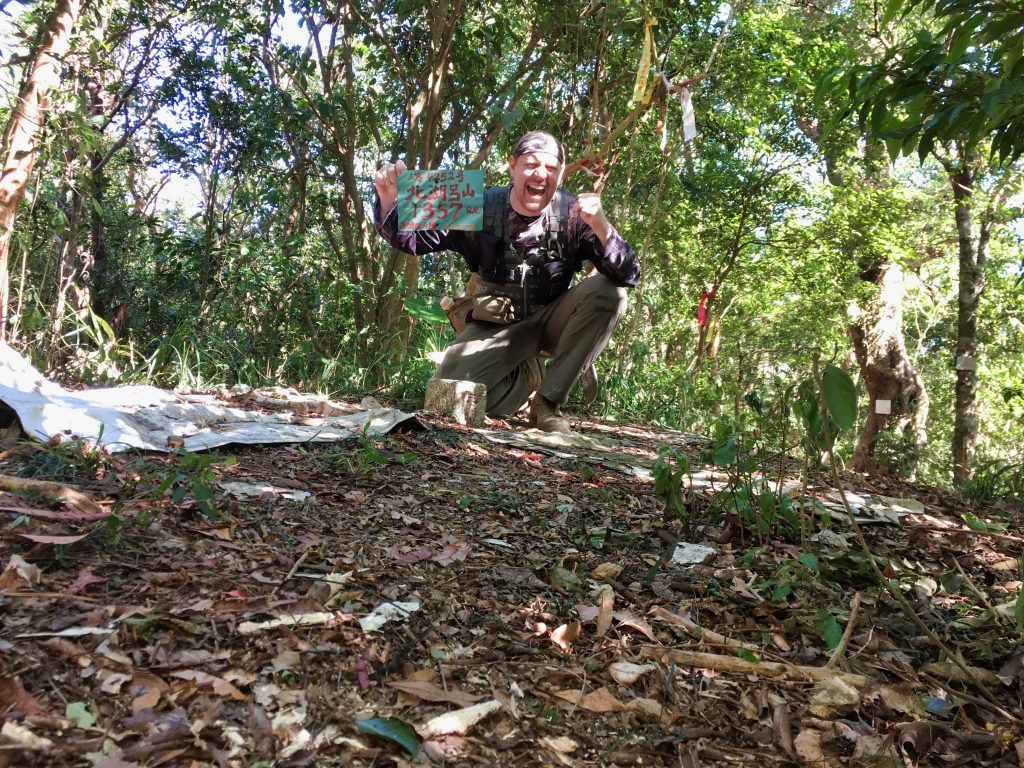 There wasn't a sign to hold, so I photoshopped a sign I found on a tree into my hands. 🙂
The peak itself is quite spacious compared to the ones I've been at recently.
This was also the first time I've seen tarps like this bolted down around the peak marker. It was suggested to me that perhaps a while ago, when this peak was more active, these could have been placed here so a helicopter could see. That guess sounds good to me.
Here's some various pics from the peak.
I had originally planned to hike all the way to the southern peak. But I thought I would have been pushing my time a bit too much. So instead I took an extended rest at this peak. This was by far the best part of the whole hike. I laid down on my poncho, put on some soothing music, and looked up at the blue sky until I fell asleep. It's not very often I can do that. It was really nice.
After I woke up and got my stuff together, I hiked back down.
There wasn't a whole lot of interesting things to see on the way back down either.
When I came to the 'rest area' I found an old cap.
I have a running joke about some kind of "cap conspiracy" going on in the mountains. I find these things all over the place. 🙂
As I went along the clouds started rolling in.
I found a little patch of some type of tomatoes. They had thorns all over them – even on the leaves!
Be careful. Those thorns will poke right through your gloves.
And that was it…end of the hike.
I wouldn't go as far as to say this hike was boring. It's not. But for me…well, I was hoping for something a little more challenging. Heck, I didn't even remove my machete from it's sheath the entire hike! I don't recall seeing any animals or really any birds. Had I known it was going to be this easy I would have brought my camp chair and a proper lunch to cook.
And I'm not saying it's EASY. I was certainly huffing and puffing towards the top of the peak. It's just mentally it was sort of *meh* for me.
Date Hiked: 2019 January 04
GPX Track Download Instructions: Click the track on the map to see the download link
Liability Disclaimer
Please read the Liability Disclaimer before using any information within this post, page or any part of this website.