With last month's overnight to DaMuMuShan 大母母山 not turning out how I had hoped, I planned another overnight to YiDingShan – 衣丁山. Along the way, I would pass DaWuCang 大武藏 and KaShan 卡山 – both a great pair for a long day-hike. As things turned out, those two would be highlights of the trip.
Day 01 – Trail Head
Starting at the bridge that crosses the Lili River 力力溪河 in Chunri Township, you'll drive a good 25 to 30 minutes to reach the trail head. When you see this monument near the Pailjus tribe – 白鷺部落 you're nearly there. FYI…take a left.
If you're driving a car or scooter you'll need to stop when the pavement ends, roughly at the yellow arrow on the map below.
If you have a motorcycle capable of driving trails, then you can keep going to as far as the purple arrow on the map. That will save you about 1.7 kilometers of uphill hiking.
Once upon a time there used to be a gate blocking the way roughly halfway in.
But now it's free and clear to continue driving as far as you can.
I'm going into less detail about this beginning section because I've written about it twice already. I think I've been up here five or six times over the years. If you want more details, check out my trip to NanJiuBaoShan – 南久保山 and DaWuCang 大武藏山. My post on DaWuCang will have more info and pictures from the trail head until I reach DaWuCang.
The Hike to the Crossroads
The hike started off great. It was around 8am and the weather was near perfect. This beginning section climbs steadily but easily up the mountain. If you're in reasonable shape it will feel like nothing more than a nice warm-up.
The views along the way are sparse, but not bad when it does finally open up.
About 20 minutes into the hike comes a landslide. This is a perfect opportunity for pictures of the river and valley below. NanJiuBaoShan is also there on the left.
You can easily follow the trail across the landslide. There are some arrows occasionally spray painted on the rocks to help guide you. The times I've crossed here before, you had to turn and go down to where the trail picks up on the other side. It's still there, but this trip there was a new trail that went straight across. I would recommend taking this new route. The old route isn't as safe (after the landslide) as the new one. Also, you'll need to later hike back up to where it connects with the new trail. Save yourself the energy!
About 15 minutes of hiking later and I was at the crossroads!
The "Crossroads", as I've dubbed it, is a junction where four trails meet. One trail will take you up to JiuBaoShan – 久保山; another trail goes to NanJiuBaoShan – 南久保山; the third takes you to DaWuCang – 大武藏, KaShan – 卡山 and many more; and obviously the fourth trail goes back to where you parked.
This is a decent place to stop and take a short rest. You won't really be tired, but I would still recommend a 5 or 10 minutes rest if you can spare it. Also, if you have the time, hike up to JiuBaoShan. It's pretty close.
Follow the Old Road!
From here I have almost no pictures. I apologize for that. Again, take a look at my hike to DaWuCang. It has more info on this next section.
After the crossroads the trail eventually links up with what used to be an old dirt road. If it was still in good condition you could follow it almost all the way up to DaWuCang. But nothing in the mountains is ever that easy. For this road, you can follow it at best a short distance before having to break off onto a single-track trail.
Along the way I found this nice little fungus thingy.
That's the only picture I took on this section. (Don't worry, I took over 600 pictures later on. Plenty to come!)
The Grasslands
I made it to the grassy area about 40 minutes after leaving the crossroads. This beautiful area is where things get messy. It's also the first time you'll get a good view of DaWuCang at the top of a large landslide.
From here you need to work your way down. The grass is tall and there are lots of rocks of different sizes mixed in. There are two ways to navigate this section. The easiest, but pretty boring route is to follow the trail off to the left. It's hard to see in the picture, but there's a small "hill" off to the left. The trail goes around its left side. It's a solid trail that's easy to follow, but there's almost no views along the way.
The other route is to make your own way through the tall grass to the right of the hill. It gives you a MUCH better view of the mountains to the south, but will also slow you down. If you're unsure or don't have the time, stick with the main trail on the left.
If you don't get lost on your way down (there are what appear to be several trails going in every which direction) you'll run into this path with a trail ribbon.
Here's roughly how it looks going around the side of the "hill".
The trail becomes solid and easy to follow. The plants and ground were wet that morning and my legs got soaked.
About halfway through there's an opening that offers a view.
This shot is looking back at JiuBaoShan. The crossroads is in that dip to the left of it.
There's an old road on the side of the mountain in the picture below. You can just barely make out part of it. That's the same defunct road that connects with the one near the crossroads.
Out the Other Side
Coming out the other end offers up some nice views. There's an old aboriginal stone structure hidden down there somewhere. I stumbled upon it the last time I was out here. It also appears this may fill up with water in the rainy season.
This is where you may regret not taking the other route. If you took the grassy route, you'd be able to see down to the river below. It makes for some good pictures.
From here you also get a good look at the next challenge, a nice uphill section.
But first I had to navigate through some tall grass. (this is looking back from where I came)
And to give you an idea of how the whole area looks, here's a shot looking back after I climbed up a ways. See the trail to the right of center?
At the top, just before making it to some tree cover, I got one decent view of ShiKeJianShan – 石可見山 and (barely) the river below.
But a little bit later and up the trail came a much better spot for that view. 😀
Final Push to DaWuCang
From here until DaWuCang there was a rope section or two followed by a forested area with multiple switchbacks leftover from that road I mentioned earlier. You never follow the road, you just cut up from level to level. Along the way there's an old helipad you can visit. It's off to the side and easily missed. Follow my GPX track from my other post to get there. (and also get more info and pictures of this section)
From the grassy area it took me about an hour and fifteen minutes to reach DaWuCang. There are plenty of excellent spots to get some great views along that route. Here are some of those shots.
This patch of flowers was something I was looking forward to seeing. I saw them on my last trip here and hoped they would still be around. There's not a whole lot of bright colors in the mountains at times, and this little bundle of color was a nice break from the constant greens and browns. 🙂
I was told that these are not native to Taiwan. So someone at some time must have planted these here. Makes you wonder what the story is behind them.
DaWuCang – 大武藏山
Ok! So this is where I'm going to be getting more descriptive. Everything after DaWuCang was new to me so I documented it much better.
When I arrived at DaWuCang I wasn't really tired but I knew I should take a break and eat a bit.
And look at that! I missed the hikers that left that laminated sign by one day!
I didn't take a peak picture here since I already have one. But here are some of the "peak paraphernalia"…
The hike to Dawucang is nice, but if I had to do it all over again I wouldn't make it my final destination. There's nothing to see on DaWuCang. There isn't even a triangulation stone to look at. I suggest pushing on to KaShan if you can start the hike early enough.
And speaking of KaShan…let's get on to that part of the hike!
Downhill ~~mostly~~ From Here!
I was pretty excited to hike to KaShan. Everything from this point on would be new to me. As a bonus, I read that the view from KaShan is pretty good. And the icing on the cake? I was hiking downhill!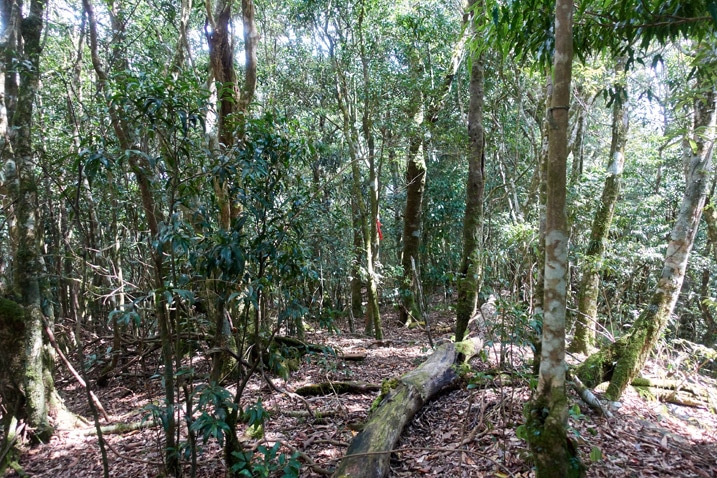 It started off as before, your typical mountain forest. But things quickly turned into a hike on the edge of an old landslide.
As you can see, a good deal of the hike from DaWuCang to KaShan follows the edge of a massive landslide.
This isn't necessarily a bad thing though. Sure it can get a little messy following a ridge like that…
…but with all those trees gone in many places, the views became unobstructed.
If for some reason you feel like making this an overnight trip, there are two (possibly) three places between DaWuCang and KaShan suitable for camping.
The second picture is almost directly between the peaks.
The downhill hike was mostly pretty easy and looked like this when you weren't following the edge of the landslide…
However, when the hike turned to the uphill portion of this section the canopy disappeared for a lot of it…and the clouds rolled in.
When I got back into the trees again…it appears someone saw fit to protect the trees from the current Corona-virus epidemic we're experiencing.
At this point I was really close to the peak – another ten minutes perhaps. So I pushed on.
Almost there!
Success!!
Kashan – 卡山
When I arrived I felt bad because I knew I was missing a great view… 😥
This is what I got…
My only consolation was that I would be coming back this way and maybe, just MAYBE the weather might be better then.
(Let me break the suspense…IT WAS!! Woohoo!!!)
I arrived at 1:15pm and really needed a decent rest. But I had no idea how much hiking I had ahead of me before reaching the first of three possible campsites. I would also need to fetch water which would take at least an hour round-trip if I chose to stay at the first campsite.
With that in mind I rested about forty minutes before leaving. Other than the view that wasn't there, there wasn't much else to look at on KaShan.
So I took my peak picture and headed off.
The Not-So-Easy Long Downhill
If you only wanted to get to KaShan, then you can skip the next few sections of my post. However, if you're considering to hike to YiDingShan – 衣丁山 then read on! FYI, I didn't make it, but there's probably some useful info.
I was happy to know that from this point on, the hike would be completely downhill once again. Of course I couldn't get it out of the back of my head that I would have to hike all this UPHILL on the way back. But whatever…that was for future me to deal with!
The initial downhill out the back of KaShan was somewhat steep. But it didn't last long.
There's one somewhat dangerous part that I didn't take pictures of. You come out to this open ridge-like section that ends in a cliff. You'll need to make your way down the side. If you search close enough you'll find a trail ribbon or two. After that it's a relatively easy stroll down the ridge.
As I descended, I dropped below the cloudline.
It was still pretty hazy, but at least I could see something other than a wall of fog.
But that easy downhill didn't last forever. I ran into a few little rocky sections that weren't as easy.
The trees were a bit dense up there. They didn't make it terribly easy to navigate with a larger pack on, but it was doable.
It wasn't long until it turned into an easier-to-navigate tree section.
Being on a ridge, there were places with a view. But the weather still wasn't cooperating to really enjoy them.
The Final Push
I was about 700 meters from the first campsite. I was so close; but little did I know…so far.
This last section took me about an hour to navigate. It started off decent enough…
I passed this mess of fallen rocks that got me to wondering what happened here.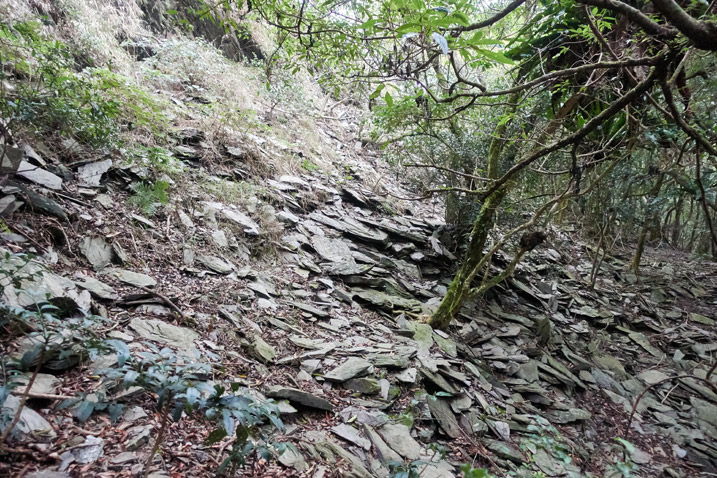 They didn't appear to have been part of a landslide above – there was no obvious loss of large chunks of rocks above. Something about the scene seemed odd to me. But I didn't have time to investigate. The next day I would have my answer. But for now…onward!
The more I hiked, the messier the ridge got.
I had a choice earlier on to follow a different route that worked its way around the other side of the ridge. It was longer, but appeared to be a little easier. I stuck with the direct route…and was now second-guessing my decision.
Why? I don't have any pictures from that day…but it got thick with trees and low growing plants. Here are a couple pictures from the next day that sort of captures what I'm trying to convey.
The ridge itself was thick with trees and difficult to navigate. The GPX track I was following changed course and went down the mountain. I missed the turnoff and just kept going straight along the ridge. At some point I tried to go down to link up with the trail, but it became steeper than the above picture and was too difficult. So I kept going straight and eventually found myself on the ridge again.
Almost There!
There was sort of a path to follow. I did my best to keep pushing through. And by golly I did it!
I made it to the first hunter's campsite!
The above picture is from the next morning as I left. I was tired when I arrived and didn't take any pictures. It did not look as inviting as it does in that picture. There was a wall of patchy fog and you couldn't see too far in any direction. Something like this…
The name "First Hunter's Campsite" is misleading. On maps I've seen, this one is labeled as the second camp. People will usually come from a different route. This would be the second (major) campsite for them. There's a third campsite between the two, but it's really small and kind of a 'last resort' place to camp.
Trail From Hell
I would need to hike down on this other route to collect the water that I badly needed at this point – and I needed to get to it quickly. After a very short break, I dumped most of my pack and started off on the water run.
When I hiked this trail a couple years ago it was pretty bad in places. I was expecting it to be just as bad. Few hikers come through here anymore. If it weren't for the hunters, I fear this trail would be lost.
The beginning of the trip down wasn't easy; there was plenty of overgrowth and the ground was wet. In many places the right side slid away down the mountain…except you couldn't see it. All that overgrowth was like a booby trap waiting to catch you off guard.
It eventually opened up in places and became a little easier, but it seemed that every turn offered a different challenge.
Maybe you can make out the trail in the below picture. There are several of these types of spots along the way – basically just a steep drop-off with a trail in the middle. There's absolutely no room for error here.
No Water!?
It took me a solid forty minutes to hike down to the water source. Along the way I passed several dry streams. I won't lie, it worried me. By the reports I had read, I fully expected to find water at the water source. But the closer I got, the more doubt filled my head.
I didn't have much water left. If the source was dry I certainly wouldn't be having a hot meal that night. I'd have to eat what dry foods I brought and abandon my plans to hike to YiDingShan. I would surely run out the next day, but I would probably be OK. I always keep 2 liters of water on my motorcycle.
So…
When I arrived…the stream was dry! I couldn't believe it!! How was it possible? Hunter's are out here all the time. Where do they get their water???
But I wasn't about to give up. My plan was to follow the (steep) stream down the mountain to see if I could find water somewhere along the line. This would cost me an unknown amount of time, but I had little choice.
And that's when I saw it…
Just past the stream bed there was a path going down. It was steep…I pretty much had to slide down it. But when I reached the bottom…I heard something!
The sound was as faint as an old man peeing at midnight, but unmistakable: WATER!!
The flow was really small. I could barely get my water filter bag situated in a crevice to collect it, but I did manage to fill up.
Back to Camp
Now that my mini crisis was over, it was time to get back to set up camp. Strangely, I hiked this uphill trek quicker than I did coming down. And I even stopped to take a video. I suppose hiking down in a dangerous area is slower than hiking up. 😕
On my way back I kept hearing this screeching sound. Not like how bats screech, kinda different. I heard it earlier while hiking down. All I could think of was "demon dragon" or something. haha…
Well, this time the mystery screecher was really close. When I looked up, I saw something looking down at me.
Can you see it in the middle of the picture? A Formosan Serow!
I have seen them many times…usually running away from me. But this one just stared down at me and kept screeching. Yes, SCREECHING!
I honestly haven't ever thought about what a serow might sound like, but a screech wouldn't even come close to making the list.
And yes, I did capture a video so you can learn what one sounds like too. Enjoy…
Pleasant Night and Unexpected Views
It was 5:40pm when I arrived back at the campsite. Despite it being foggy, the weather was rather nice. There was no major wind and it didn't appear there would be rain.
After I made camp, I started a fire and chilled out for a couple hours.
Normally this would be the end of my Day 01 report. But around 5:30am I woke up to use the bathroom and the first thing I saw blew me away!
I was preparing to see a sky lit up with a billion stars; but instead I got the lowlands lit up with a billion lights! The stars weren't visible, but I think it was a fair trade.
I didn't go back to sleep after this. Instead, I stayed up to take a bunch of long-exposure shots of Pingtung county below. They all pretty much look the same, so I'll spare you the 20+ pictures that I took. Well, just one more. 🙂
Day 02 – Change of Plans & Major Problem
Morning arrived and I was in no major hurry.
I had made the decision not to attempt YiDingShan the night before. Time would just be way too tight to make the hike up, rest, hike down, make a water run, and then hike back to my bike. A large portion would definitely be at night. This is a three-day for sure…and I didn't have food for three days. So that was that.
As it turns out, it was a VERY good thing I decided not to summit YiDingShan. 😥 More on that to come…
It's a nice thing not being in a rush when hiking. It's not very often I have spare time like this. You kind of don't know what to do with yourself. Thankfully, I brought coffee!
And let me take a moment to plug my friends' coffee business who gave me these little bags of their coffee: Reel_木軸咖啡館
They have a nice little interesting shop with good coffee and, if you need it, wifi. Stop in for a cup if you're visiting Kaohsiung.
After breakfast I hung around for a bit to take pictures of the mountains as the sun came up.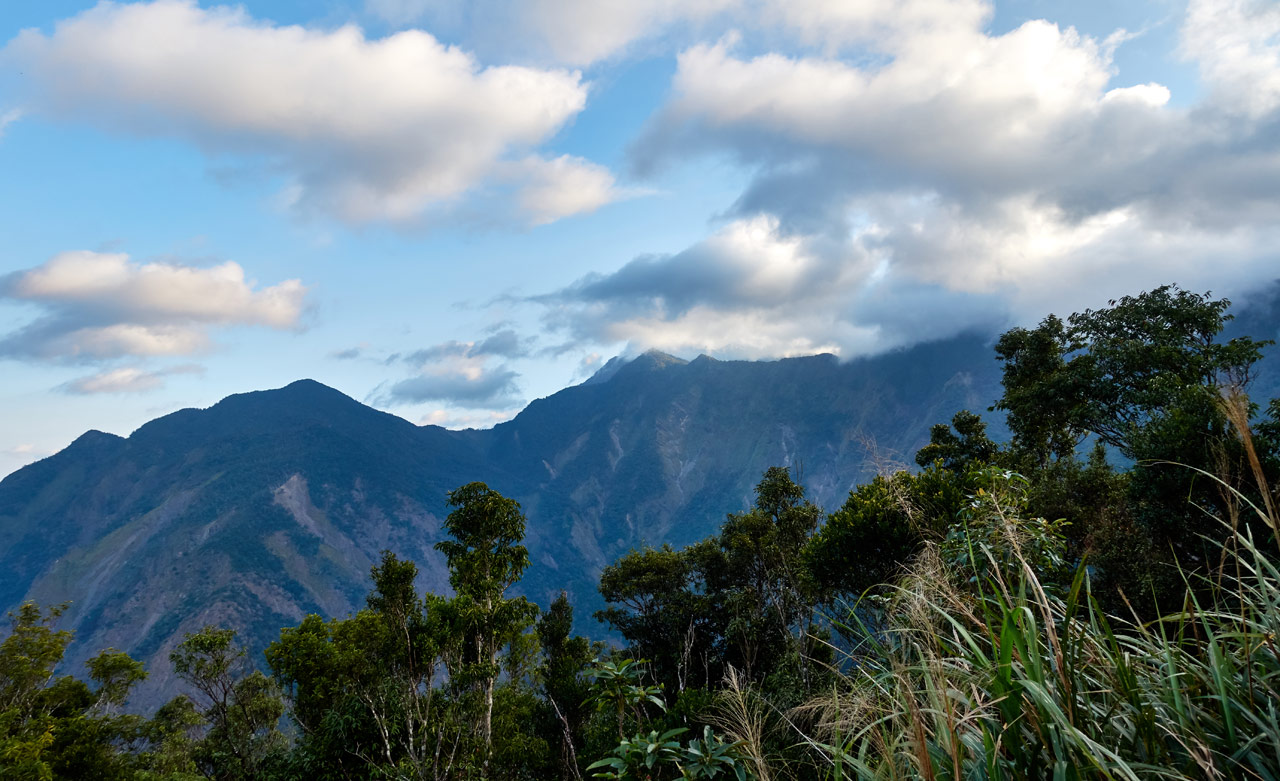 This was the second time using my Six Moon Designs Skyscape Trekker tent. I still need practice trying to get the perfect pitch. But this time it was a lot quicker for me to set up.
Whenever I decided it was time to leave the sun got a bit brighter and the scenery got a bit better…so I took more pictures. What else could I do after that cloudy/foggy first day!?
Back Up to KaShan!
At around 8:20am I prodded myself to get going. I had a lot of uphill hiking that I wasn't much looking forward to doing. Best to just get it over with.
Instead of directly backtracking up the ridge I came down, I followed the trail that I was supposed to have taken the day before.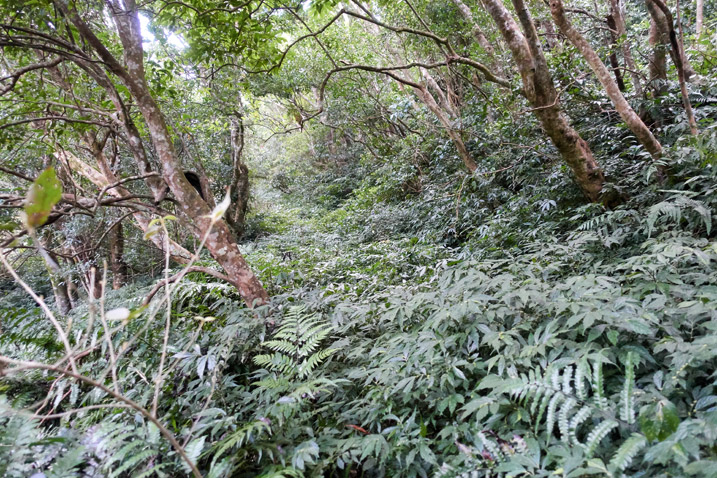 This must have been an old road at one time. I followed it a short ways before the trail cut up the mountainside. "Damn" was the word I muttered when I realized I wouldn't be having a nice and easy beginning of the morning hike.
I followed trail ribbons up the side of this slope. There was no real trail to follow – just those ribbons.
I must have missed one because I found myself off trail and in the thick of things at one point.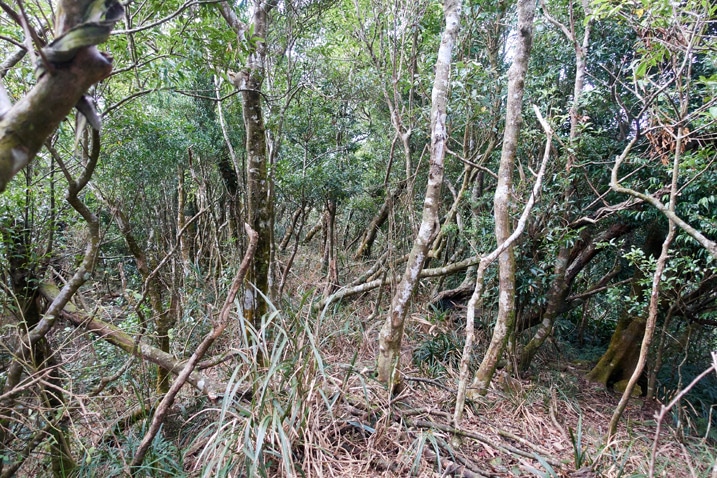 With a little effort I managed to get back on track after that little detour. And I also got a surprise view.
From here the hike was exactly in reverse. I guess I don't need to write much about it. But one thing I will mention is that patch of fallen rocks I mentioned earlier.
I took a slightly different route in this section that brought me to this scene.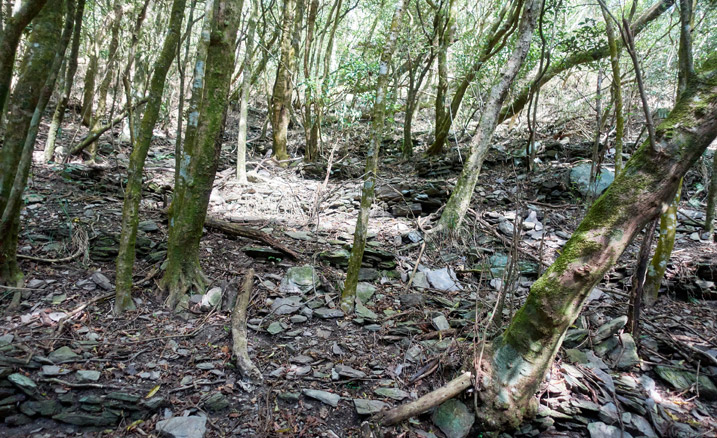 You know what this is? I'll call them "primitive escalators". See how there are many paths going up, from side to side? This must have been built by the aborigines who lived in the abandoned village not far from here. At one time these must have made it much easier to climb this portion of the mountain. Trees and time have destroyed a lot of it, but I suspect remnants will remain for quite some time. Cool. 😎
More Scenery Than I Can Shake a Stick At!
The hike up to KaShan wasn't too bad physically. My body took the constant uphill hike in stride and didn't complain. It probably helped that it was a mostly clear day and there seemed to be a wide open view at every turn.
I have 30 more pictures that look more or less like a combo of the above pictures at various angles. I won't bore you with them.
Along the way I got lucky and found a deer's antler. The altitude was 1440 meters.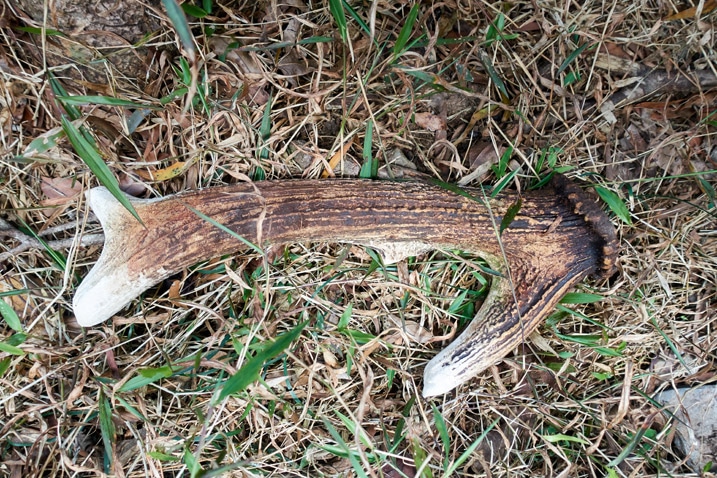 KaShan…Again…
It took me a solid two hours to hike back to KaShan. And boy was a glad that I made it early enough. The views were spectacular!
Now I understand why people want to hike to this peak. It's really worth it. A peak that I wouldn't mind coming back to some day.
I wasn't all that tired or hungry, so I didn't linger long. Here's my last view of KaShan.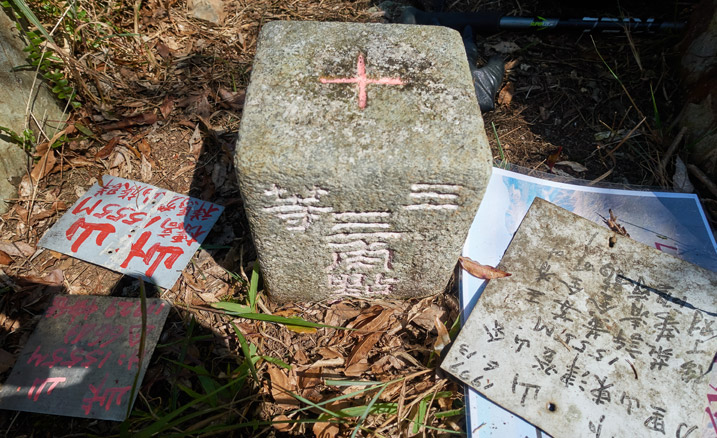 From here I had a good deal of downhill before heading back up. This is looking up at DaWuCang, my next destination.
A Painful Hike
Everything had been going pretty well on this hike so far. I started early enough…the hike was pleasant…the weather cooperated…I didn't fall down at any point…I found water…the views were nice…I mean, I couldn't complain about anything up until the moment when it happened.
As I was hiking down the above section I suddenly felt a short, stabbing pain in my knee. But it was just the one time. OK… 😐
Then it happened again. Over the next 10 minutes the frequency of the sharp pain increased…until it happened with every step. Damn…
I stopped often to take pictures and counted those as 'resting' my knee. But it only helped with improving my mood.
I should have stopped immediately, but I was on an exposed ridge. I wanted to stop under some trees and on flat ground. So I kept going until I reached some.
Time for a Break
I took a long solid rest and dug through my pack looking for the meds that I carry. I had brought some pills prescribed for a different knee injury I had some months ago. Those combined with two extra strength Panadol was the best I could do…other than let my other leg do most of the work. Because I quickly found that my right leg was pretty much useless.
From here it was all uphill until I reached DaWuCang. When I tried to use my right leg to push my body up the mountain, I would get that pain – and after that rest, it was even worse. So I kind of limped my way up the mountain. This was slow and painful work. 😥
The good news is, after about 30 or 40 minutes the meds seemed to blunt the pain a bit. Over the the next couple hours the pain would be less and less…until it went away entirely!
The last hour or so of the hike there was no pain at all. I was happy of course, but it worried me. I know the meds wouldn't have eliminated it; and it felt too serious to just go away without a trace. My only guess is that my body released whatever chemical to remove the pain temporarily. And that's probably what happened, because the next day it came back with a vengeance! (As I sit here writing this, almost 7 weeks after the hike, it's still not better)
Let's Wrap Things Up
The skies were pretty clear the whole way back and the weather was great.
It took me five hours and twenty minutes to get back to my bike from KaShan – that's kind of excessive given the distance and terrain. But I made it. One point of interest along the way was this "structure" that I have passed many times while out here but never once noticed.
It's located just off trail down the mountain not far from where I parked. I was puzzled by its purpose. I figured it would be a mystery never solved, but later I (sorta) got my answer.
Hunters
When I got back to my bike and I was packing up, three aboriginal hunters came back from a day of hunting to retrieve their motorcycles. We got to talking and I asked them what this structure was built for. They told me it had something to do with wild boars. They said there used to be a bunch of them in that area and this was related to it. My Chinese wasn't good enough to inquire further, so I left it at that. Maybe they meant a farm of some sort? I'm still confused.
And to break up this wall of text, let me drop this picture of…is it a shrine or creative littering? This was located in the parking area.
On a side note, I learned that day that in addition to ground dwelling animals, they also trap birds! One of the hunters climbed up a tree and stood there for five minutes doing something. When he came back down he motioned for me to come over to look a video on his phone. He had trapped some type of large bird earlier with a small leg-hold trap placed in a tree. I was once again confused. Many (all?) aboriginals revere a certain eagle. I asked about it and he said this bird flies over from China and they don't like them. So…they hunt them!
They also told me various bits of info about the surrounding area. For example, there's a small water source between the "crossroads" and NanJiuBaoShan. Stuff like that.
I'll tell you, guys like this know their mountains!
And here's a final shot as I drove out of the mountains.
Conclusion
It was a fun hike, despite the injury and not reaching my intended final destination. I definitely plan on coming back and making it a three-day hike. If you're interested in hiking some portion of this, I would recommend going all the way to KaShan. You'll need to start really early. Drive up when it's still dark and start at the crack of dawn or earlier if you bring your headlamp. Otherwise you'll be pressed for time I think.
If you just want to do DaWuCang, it will still be a nice hike, but there are no views there. It's so much more worth it to keep going to KaShan.
Oh! As for my knee injury (I doubt anyone cares but myself) I'm really unsure WHY it happened. My only guess is that I forgot to stretch before setting off on the second day. I always stretch well before I hike. Perhaps that was it. I'm not young anymore…gotta remember to stretch, right!?
Date hiked: 2020 March 08 ~ 09

GPX Track Download Instructions: Click the track on the map to see the download link
I'm including the track from Day 02 because I followed the correct trail towards the beginning of the hike. I forgot to turn it back on along the way, hence the long line of no info. Sorry…
Liability Disclaimer
Please read the Liability Disclaimer before using any information within this post, page or any part of this website.