BaCengBaMoShan 巴層巴墨山 is an unassuming little peak in south Taiwan that hides a big secret during the dry season.
At only 937 meters, BaCengBaMoShan is often overlooked by hikers looking to bag higher peaks. However, what it lacks in height, it more than makes up for with a 360 degree beautiful panoramic view at the top. But I'm getting ahead of myself. Let's start at the beginning of this hike.
The Drive to the Trail Head
If you head down from Kaohsiung along the coast on Provincial Highway 1 you'll find County Road 147-1 in Fangshan Townsip 枋山鄉. The 147-1 follows a riverbed straight into the mountains. If this route sounds familiar, perhaps you've taken it to Kayoufeng Waterfall 卡悠峰瀑布. BaCengBaMoShan isn't far from the turnoff to Kayoufeng.
This time of year the riverbed is dry…
…and the local farmers plant a slew of watermelons.
If you follow this road, you'll come to a fork in the road. You'll need to take the dirt road down to the right. I made the mistake of following the road up to the left. It took me to the Fangye Signal Station 枋野號誌站. A worker set me on the right path and I turned around and took the correct road.
If you're interested in more info on this area, Steven Crook wrote an excellent article for the Taipei Times about it. http://www.taipeitimes.com/News/feat/archives/2018/11/30/2003705191/2
I didn't get a picture, but I soon came to a mountain checkpoint. They asked where I was headed and wrote down my license plate number and took a picture of my ID. After that I was permitted to continue on my trip….which lasted all of about one minute. I made it to the trail head.
You can see BaCengBaMoShan in the middle of this picture I took earlier.
While I was preparing my gear, someone from the switching station rode up and we got to talking. He mentioned the whole way was pretty steep but when you get to the top you can see both oceans on either side of the island. That sounded great! I was up for the challenge.
Let the Hiking BEGIN!
As the gentleman mentioned, it was steep. It started steep from the very beginning and never really let up.
But it wasn't long before it leveled out some.
The man from the signal station also mentioned that he tried hiking this once but it was really difficult due to all the vegetation. This was echoed by a hiker friend of mine who tried it another time of year. He couldn't make the peak because the trail just disappeared in all the overgrowth.
I didn't see any of the overgrowth and the trail was more or less easy to follow. Apart from the great view, this is another reason to hike it in the dry season.
After about an hour of hiking I got my first glimpse of the "watermelon river" and switching station below.
One thing you can't see in this picture is how windy it was. Apparently this area sees a lot of wind throughout the year. This particular day it was rather hot, so the wind was welcome!
Beyond this little outlook I had to dip down to link up with the ridge that would take me up to the peak. This section had a few rope climbs.
As I climbed, there were more and more outlooks with nice views.
From here I got a better look at the peak – the one in the middle.
It doesn't look as high as the peak to the left, but it is higher. Actually, the peak is BEHIND what you see in the picture.
So…I kept going…up and up and up…legs burning the whole way.
Someone tied a compass to a tree.
A fallen tree offered a nice spot to sit and rest.
I was about three hours into the hike when I made it to the top of the main ridge.
The Ridge
I continued on, still getting nice views…and got my first glimpse of the ocean.
A few minutes after taking this shot I had my first scare. I missed where the trail turned off to the right due to vegetation overgrowth. Apparently many others miss it as well because several meters up there was a path that linked back up with the main trail. As I was walking on this path, I looked down as I was about to step on a leg-hold trap!
It was rusted shut…but those milliseconds between seeing it and realizing it's not set is really scary. I don't know why, but I'm like a trap magnet. I find them all the time.
I'm now about an hour before reaching the peak and find a perfect outlook. This place may very well be the best vantage point to see the watermelon fields below.
I pressed on, still going up…hot, legs burning, body tired….I had been hiking over four hours now. I was so close to the peak.
Success!
After pushing my way through all this foliage…I made it to the peak!
After my victory picture…
…I enjoyed the 360 degree view. Unfortunately I wasn't able to see the east coast ocean due to the clouds, but it hardy mattered.
There wasn't a whole lot of stuff to see on the peak.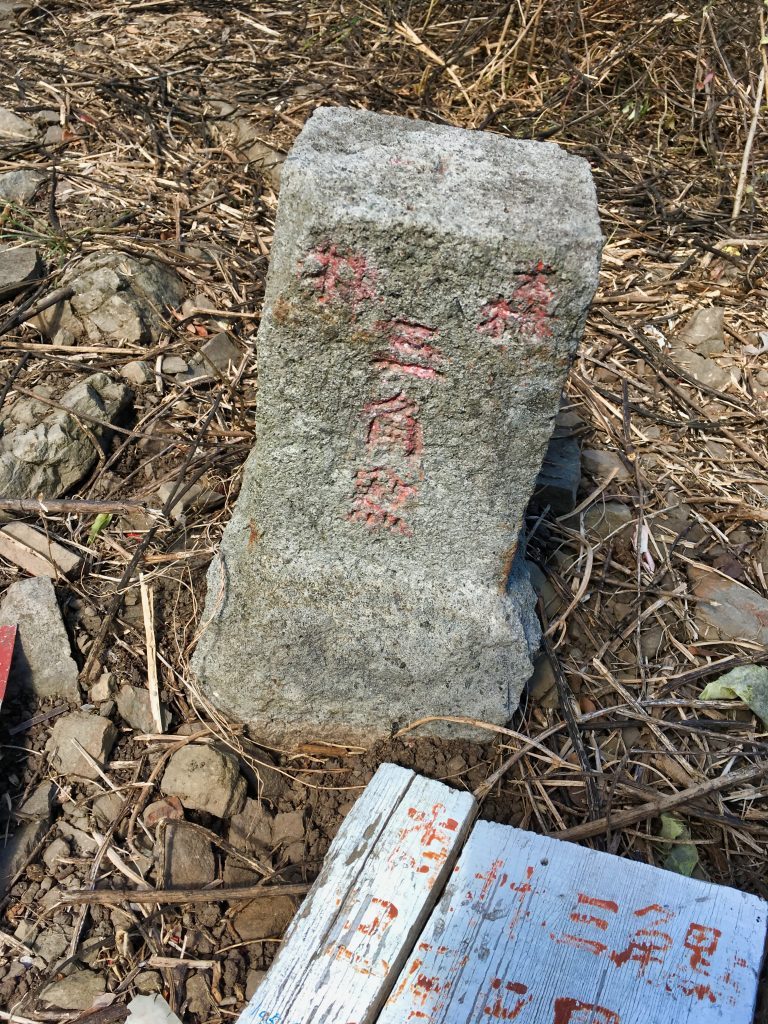 But I did find these old signal flags under some dead grass.
I haven't seen flags like this on a peak before. I first thought they had something to do with signaling the trains below. But it's not easy to see the trains from up here. And given the size of these flags, I doubt they could easily be seen from far below. Whatever their use, they've been retired some time ago.
One nice feature of the peak are these rocks.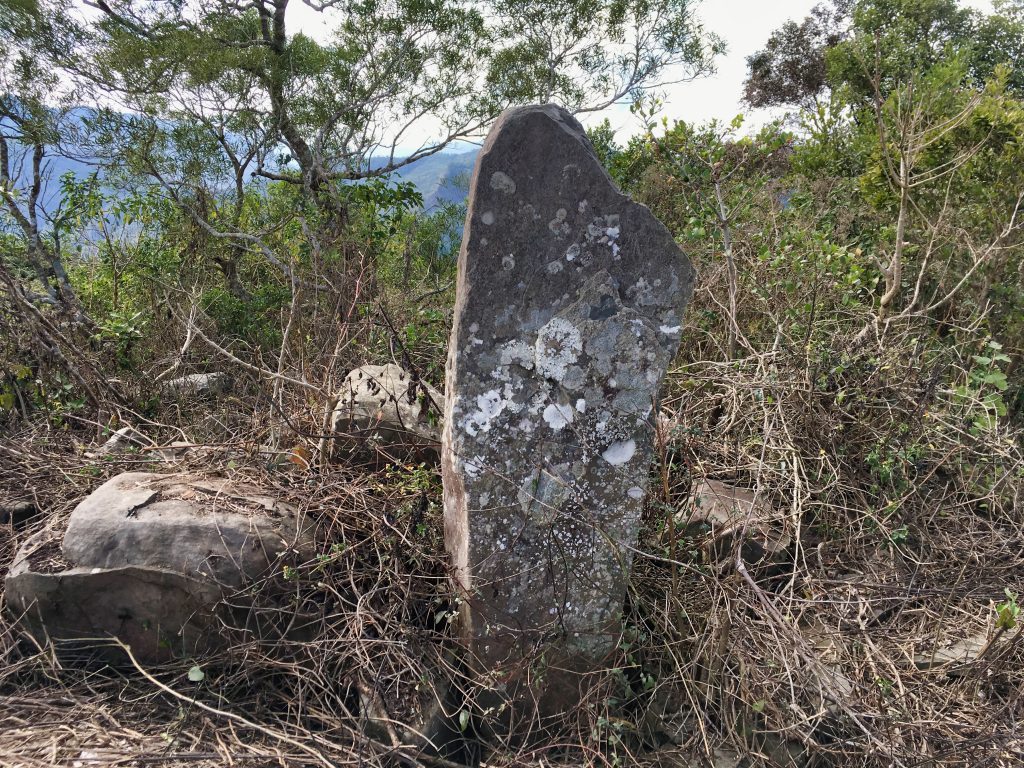 The smaller rock on the left is at the perfect height to sit. Though that taller rock makes me wonder about their purpose. There's no way that rock sits up like that naturally. "Grave-site" is the first word that comes to mind, but I doubt it. 🙂 Still, I have to wonder what these are all about.
(I later learned there's an abandoned aboriginal village in the vicinity. Two in fact. One on the way up and one around the back of the mountain. This stone in that particular position was no doubt placed there by them.)
The End
After a good hour's rest I started back down. It took me about three hours to hike down to my bike. Nothing interesting happened. I was pretty tired but wanted to get out of there before dark. Given how steep it is, I didn't want to be doing it downhill at night.
This was the last picture I took.
I highly recommend you try this hike! It's well worth it!
Date hiked: 2019 February 23

GPX Track Download Instructions: Click the track on the map to see the download link
Liability Disclaimer
Please read the Liability Disclaimer before using any information within this post, page or any part of this website.