Just north of the 9 (台9線) down south in Shihzih Township (屏東縣獅子鄉) you'll find a couple overlooked little peaks by the names of ZhongXinLunSheShan and ZhongXingLunSheShan Southwest Peak – 中心崙社山 & 中心崙社西南山. I'll be honest, there's probably no reason for you to want to hike these peaks. I hiked them so you won't (maybe) have to waste your time. But I'll let you make up your own mind.
Do You Really Want to Hike This?
I'm not here to tell you what to do, but let me list some of the reasons why this might be a difficult hike to complete.
First, take a look at this map. (click it for a larger and easier to see map)
From the beginning to the main peak trail head is approximately 9.5 kilometers. It's concrete in the beginning…
But as you can see it can be might "iffy" at times.
And later the road turns to dirt.
For some of you this may seem a small thing. Many mountain roads in Taiwan are exactly the same. Except this one has one little snag…
The road is washed out at approximately the 3.7 kilometer mark. Here's a video that better shows what happened.
And if you watched the video to the end, then you already know about the bypass!
This was built (presumably) by hunters. I met a pair later in the day. More on them later.
As far as this bypass goes, I can't stress enough about how steep it is to drive up. Seriously, it's not something the average motorcycle rider would want to take on alone. If you're not up for it, the penalty is a nearly 6 kilometer hike to the main trail head. That's not something I would want to do…and I didn't. I drove my fat ass up that bypass and let me tell you, it was sketchy as fuck indeed!
But I did make it. Though coming back down later that day was a butthole puckering experience!
One Small Thing
Before I leave this part, I'd like to mention that there's a reasonable possibility that the road could be fixed by now. There are several powerline transmission towers that this road links up to. There are no other roads connecting to them. I can't imagine the powerline workers trying to drive up that bypass, and there's no way they're going to HIKE to them. So I have to believe the government will fix the road.
If you find that it has been fixed, please take a picture and send it to me so I can update my post. I'd appreciate it a lot!
The First Trail
It's approximately 3.5 kilometers from the broken road to the ZhongXingLunSheShan Southwest Peak trail head. In case you're wondering, the views up until this point are scant. But I do think the drive was relatively nice all things considered.
You can see LiLongShan – 里龍山 there on the left in the distance.
Despite ZhongXingLunSheShan Southwest Peak being a small blurb on the way to the main peak (it's not even listed on many maps…but to be fair, the main peak sometimes isn't listed either) I was surprised to find a trail and trail ribbons.
Though "trail" is giving it more credit than reality. It's more of a rough path for the first half of it.
There were even several old planters littered about. So yeah, this area used to be active with farmers at one point.
The sun was intense and it was as hot as you can probably guess from the pictures. But I'll take hot and sweaty over rainy and wet any day.
Somewhere along the way there was this concrete stone marker. There was nothing written on it to indicate its purpose.
You're probably thinking to skip this part of the hike, but let me show you one nice view it offers.
Ok, it's not SUPERB, but it seemed nice at the time.
And after a whopping 25 minute hike…
ZhongXingLunSheShan Southwest Peak – 中心崙社西南山
I had arrived at my first destination.
It doesn't look like much, and it isn't. However, there's one interesting thing to see here. Rather, there are FOUR things to see.
For some reason this no-name little peak has four stone markers.
I have no idea why there are four or why two of them are so close to each other.
There's nothing else up there except this sign on a tree.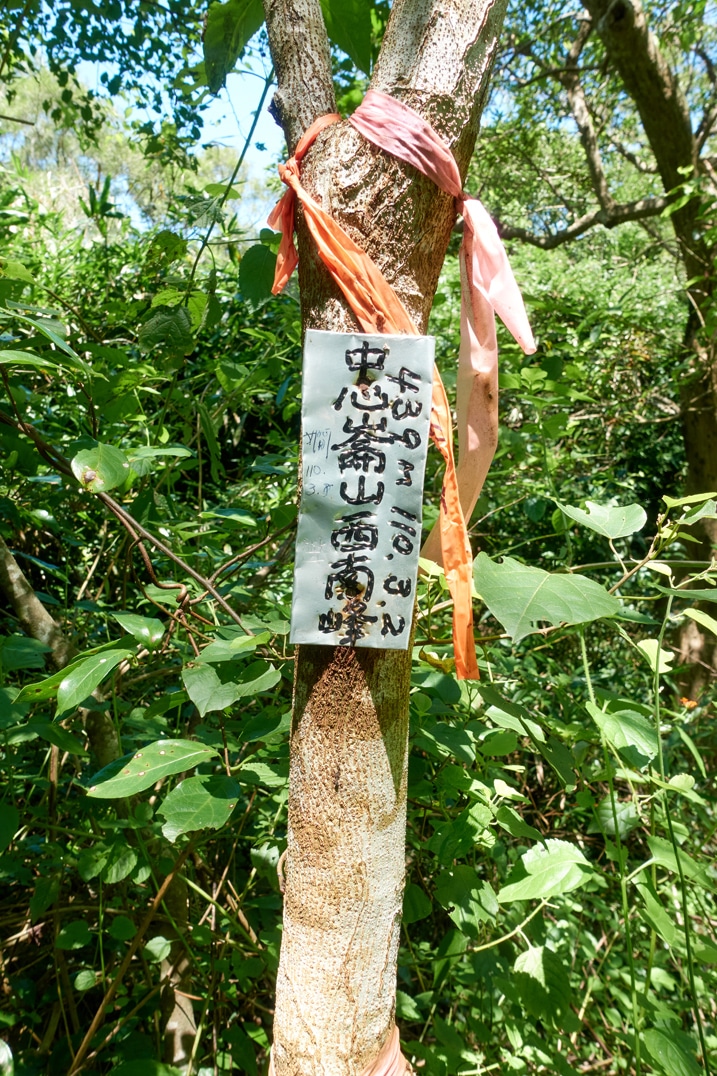 I figured that's where I should take my peak picture.
But just in case…
One Reason to Hike this Peak
I'm sure you've removed ZhongXingLunSheShan Southwest Peak from your list…ok, you didn't. It was never on there in the first place. BUT…here's one reason you might want to go.
Take a look at this map. Click it for a larger picture.
I have reason to believe there is a trail from ZhongXingLunSheShan SW Peak to ZhongXingLunSheShan.
The trail I took to ZhongXingLunSheShan is the orange trail on the map. The blue line is what I'm pretty sure must be a ridge trail to the peak. Why? Because right where the orange and blue lines intersect, I accidentally followed a trail the wrong way on my way down.
That's a screenshot from my phone.
The trail I followed was marked and looked reasonably used. I wasn't sure exactly where it led at the time; but now after comparing the two maps, it seems obvious that it must be a trail from one peak to another.
If that's truly the case, then it might be worth attempting. The drive from the first trail head to the next didn't pose any problems, but why take the extra step?
And if you're wondering about that road on the map that goes down the mountain from the second trail head, I was told by a couple hunters that you can't take it down. That was my original plan; to make a loop or even come up from that side if I encountered a problem on the main road.
From what I saw, there was most definitely a single track trail headed down that road. I wanted to follow it down on my bike if I had the time after my hike, but I didn't. So I'll have to defer to the hunters' expertise. I can't imagine they would have put in the effort to build that bypass if the other end was open.
ZhongXinLunSheShan Trail Head
The hike back to my bike and drive to the next trail head was mostly uneventful. I met those two hunters I mentioned maybe a kilometer from the second trail head. They were quite surprised to see me and more so when learning I was alone and had managed to drive up their bypass alone.
They had the usual assortment of trap-making materials and showed me how they work. One of them had a very reserved and suspicious look on his face when looking at me. I'm not sure what he thought I was going to do. hahaha… The other guy seemed really nice and offered me a can of Supa Supau. That really hit the spot!
One quick note about them. They asked why I was out there and I explained. I also said that I love their mountains and think they're beautiful. They didn't feel that way at all. They didn't say they were ugly or anything, but didn't seem to believe they were beautiful.
I'm not sure why that stuck with me, but it did.
Ok, back to the hike!
There were a few spots to get a nice look at the mountains beyond.
Two and a half hours after entering the mountains and hiking to the first peak…I had made it to the main trail head!
I secured my bike and started up the ridge. Here's the actual trail head…it doesn't look like much.
The Hike to ZhongXinLunSheShan
You probably have a rough idea how the beginning of the hike went, judging from the last picture.
Trees..
…trees…
…and cans of spray paint.
There was only the one can of spray paint. And somehow I managed not to see anything spray painted. We can call that a win I suppose.
But yeah, things kinda sucked in the beginning. It was nice to have a machete at hand.
But eventually it did become easier. Perhaps this little inchworm was a harbinger of good fortune or safe travels or something…letting me know things will become easier.
See!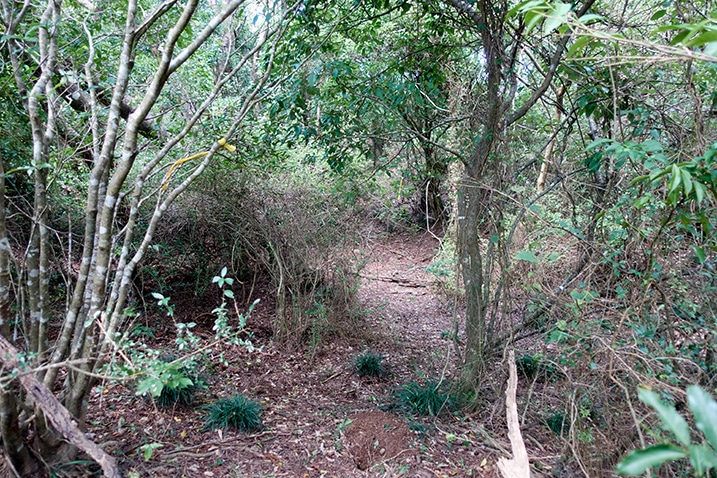 And the improved views certainly proves it!
Or maybe not. Because not long after things became nicer I came across these.
Some monster seemingly ripped these out of the ground for whatever reason.
And not long after seeing those, I saw this…
A gravestone.
Perhaps that little inchworm wasn't a harbinger of good fortune, but a harbinger of death…
To the Peak!
Well, I don't believe all of that. In fact, I just came up with it cuz I never use the word "harbinger" and thought it would sound cool to include it in a post. Or maybe it wasn't cool.
But what WAS cool was the view ten minutes later.
I would say this is likely the highlight of the hike if pretty views are your priority.
If not, then maybe the next section will be more to your liking.
It got real hairy there towards the end. If I'm not remembering wrong, that tangle of vine-like crap was cutting and grabbing on to my exposed areas. But it didn't last long fortunately.
After a bit more hiking…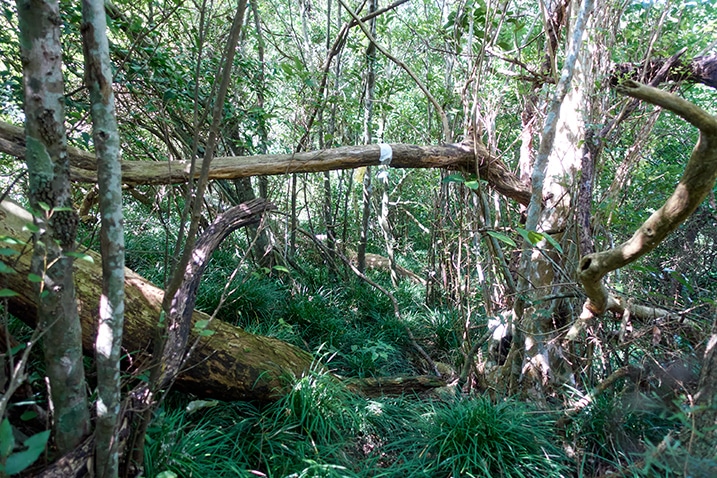 I finally made it!
ZhongXinLunSheShan – 中心崙社山
From the pictures I had seen of this peak from other hikers…things seem to have become a lot more overgrown. Their pictures looked more open. But their hikes were six or more years ago…so I guess that should be expected.
There was no view and not much to do at the top but eat and rest up for the trip down. Oh! And take more pictures!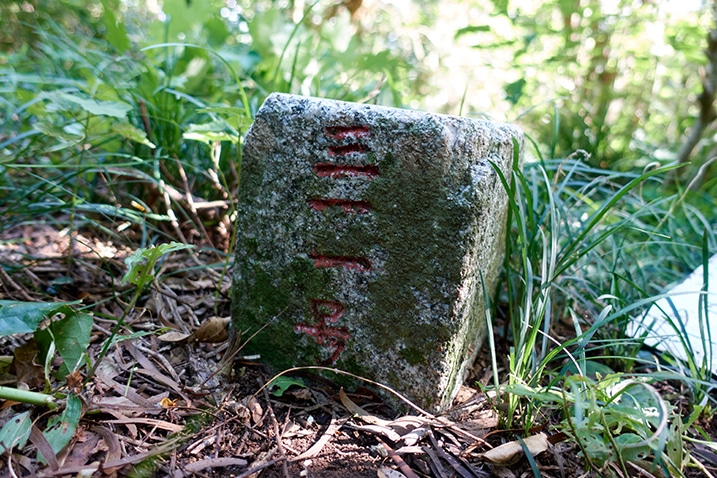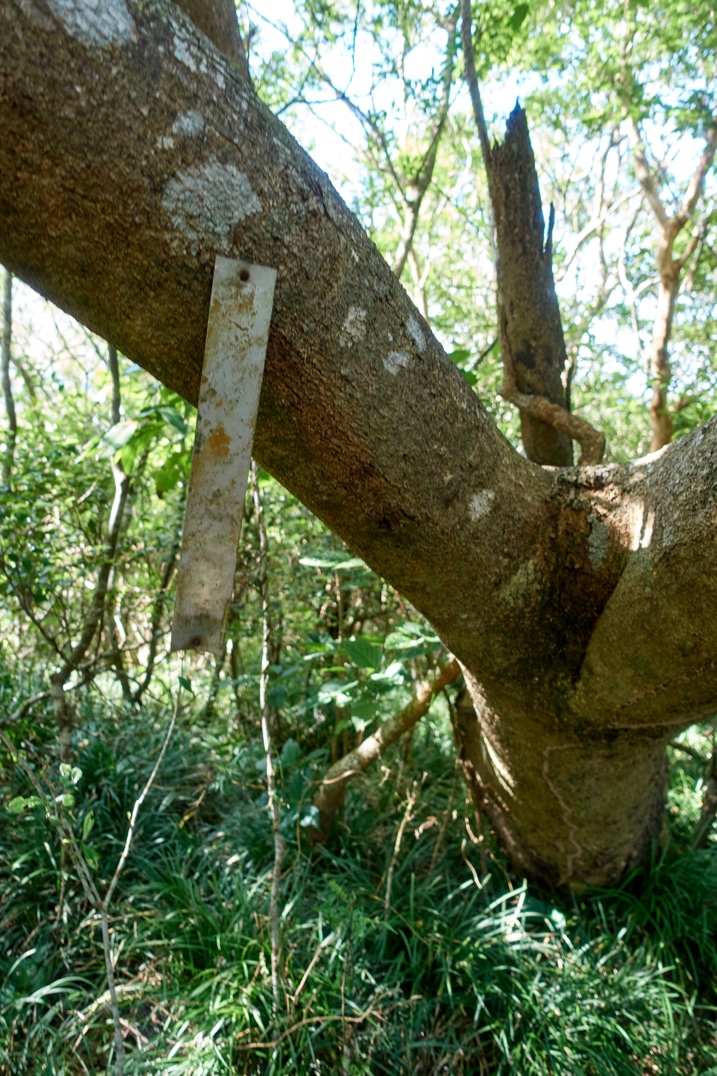 And of course…my peak pic!
And I'm holding the machete like that to show it off. It was my first time using it. A CRKT KUK machete. I've been using it now for about seven months and gotta say I like it a lot. It's small and not a true kukri machete, but it's enough like a kukri that it can do a great job at cutting most obstacles. And its small size is a plus for a lot of what I hike. I used to use a longer machete similar to an Ontario machete, but I found it would get caught up on vegetation in tight places. This little CRKT works much better in those tight spots!
The Trip Back Down
One side plan I had was to see if I could find an abandoned aboriginal village on the other side of the mountain by the name of…you guessed it, 中心崙. So now you know how the mountain got its name or maybe it's the other way around.
I have little to say about my hike back to the bike other than wandering on to that other trail I mentioned earlier. It took me all of an hour and ten minutes to reach the trail head. On the way down I saw this tree.
Some animal had a go at it with its antlers I guess.
The ride out was easy (minus the butthole-puckering minute of slowly driving down that bypass) and I was rewarded with a nice sunset when I got to the main road.
To Hike or Not to Hike?
It's obvious that few people hike these two peaks and probably for good reason: they're not easy to reach! At least not when I went. One of these days I'll drive back to see if the road was repaired. But even if you could easily drive right up to the trail heads, I feel that the hikes themselves offer little. So yeah, I'm suggesting that you probably consider other peaks to hike.
Date hiked: 2021 September 08

GPX Track Download Instructions: Click the track on the map to see the download link
This is the track going up. Remember, the ridge has no trail or markings of any kind. Hike it at your own risk.
Liability Disclaimer
Please read the Liability Disclaimer before using any information within this post, page or any part of this website.