This will be a shorter post. I had a rather long two-day hike a couple weeks earlier, so I wanted to do nothing more than a simple, short hike. My choice was a six peak combo:
DaLaiShan – 達來山 504m
DaLaiShan West Peak – 達來山西峰 494m
DaLaiShan Northwest Peak – 達來山西北峰 402m
DaLaiShan North Peak – 達來山北峰 402m
…which are all located close to each other on a small ridge,
as well as:
TianLiangJingShan West Peak – 田良井山西峰 705m
TianLiangJingShan Front Peak – 田良井山前峰 726m
…located nearby just across a river.
If this area seems familiar, that's because it's in Sandimen (三地門)! If you've ever been, you've surely seen this ridge from a distance.
What to Expect
In theory, you can hike to all of these peaks in a single day. And in practice I'm positive it's doable. However, during the hike I chose not to try the second set of peaks and just stuck with the DaLaiShan set.
The hike is relatively short and not too difficult for the most part. My knees were acting up a tad bit, so I wasn't about to try something difficult. And this is the perfect hike for that as there's very little elevation gain! Though there are places you'll need to get on your hands and knees if you want to continue forward progress.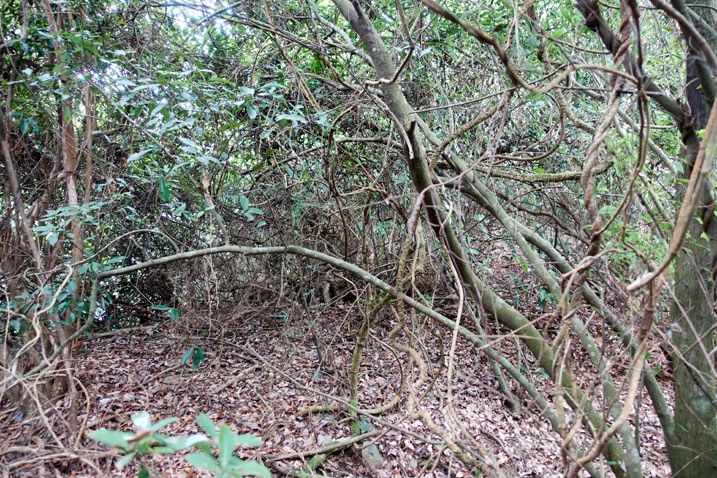 But other than that, it's not so bad. Plus! There are some decent views along the way. More of that to come.
The Beginning
Getting to the trail is simple. I'm sure you can figure it out. The only decision you'll need to make is whether to park on the main road or to drive up a dirt road and park on the ridge.
At the top is what I'm presuming to be a cellphone tower. If you're afraid of spiders, this would be a good time for me to mention that there are a LOT of golden orb-weaver spiders in this area and more heading southeast along the ridge.
If you've never had the opportunity to see them up close, go ahead and take a look! You'll be knocking down some of their webs to pass through, so best get some pictures before doing so. And don't worry, they're harmless. "Gentle giants" are how I would describe them.
From the cell tower you can either go northwest to DaLaiShan North Peak or southeast to the other three. It seemed logical to first knock out the easier peak to the northwest, so that's where I started.
Right away I came to another cell tower.
This one had some old equipment discarded off to the side.
Just beyond the second cell tower was this open area followed by the first trail ribbon of the day marking the DaLaiShan North Peak trail head.
It took all of ten minutes to walk here. It would have been five minutes if I hadn't stopped for pictures. And from here it took only a couple minutes to reach the peak.
DaLaiShan North Peak – 達來山北峰
I hadn't even broken a sweat and there I was at the first peak of the day. But who's complaining? It's what I asked for.
There's really nothing to say about this peak. It's just there. That's it.
Here are some shots of what's to see at the peak. Trust me, it's not exciting.
Continuing on…
I walked back the way I came…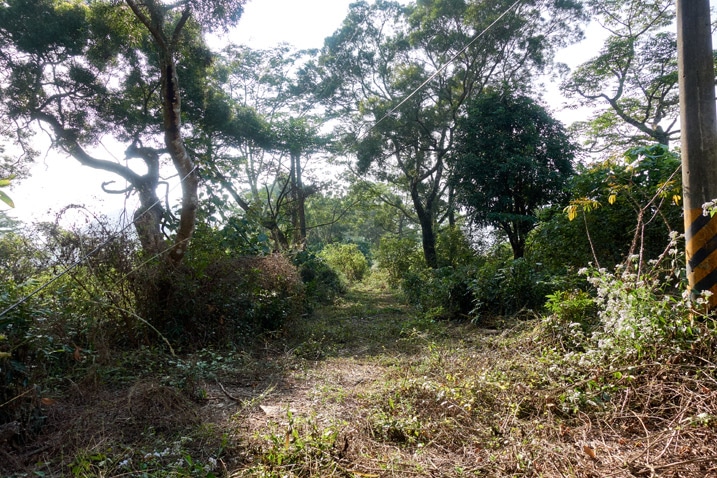 …and was immediately greeted by this scene:
It wasn't as bad as it looks. And it helped that there was a bit of a view from this part of the ridge.
Yeah, it wasn't much. But better than nothing. And that's looking back toward Sandimen.
After climbing through all that, I was greeted by these signs.
Whatever the top sign used to say is now long gone. The other one says 達來前鋒. "DaLai Frontier"? "Forward DaLai"? I'm not sure how to translate that properly.
From here the ridge was easy going.
Apparently someone does something up here.
And it seems a bird met its end there on those rocks.
There weren't many trail ribbons, but being a small ridge, it wasn't difficult to find the correct route.
The route got messier again for a bit…
…but as before, got back to normal more or less.
Almost There!
I was nearing the next peak when the ridge started opening up a bit.
Ah, that's better!
It's partially obscured, so I'll tell you what it is later in a better picture.
That bridge down there is the one you'll have to cross to get to the other two peaks I chose not to visit – TianLiangJingShan West Peak and TianLiangJingShan Front Peak. There's also a (mostly?) abandoned aboriginal village up there that has many buildings and structures still intact. It's named the "Old DaLai Tribe – 舊達來部落". I hiked through there on my way to TianLiangJingShan – 田良井山 a few years back. If you want to go, do yourself a favor and drive a scooter or motorcycle; a car can't cross the bridge. Your legs will thank you.
Not long after that little picture-taking break I had arrived at…not the peak?
I'm not sure where this used to be located or where the rest of it is, but this certainly wasn't one of the peaks on my list. In fact, it seems that I had totally MISSED the second peak, DaLaiShan Northwest Peak. I should have seen it very close to where I had parked. But apparently I had walked right past it and didn't notice. Huh…guess it will be the last peak of the day then.
Halfway Point
Yeah, I was now about halfway to the last two peaks. It only took about forty minutes to get here from where I had parked. It wasn't even eleven o'clock yet and I was quickly nearing the end of the hike.
But what I didn't know was that this last half would be a BIT more difficult than the beginning. Of course, it didn't start out that way.
In fact, the ridge opened up quite nicely on both sides and offered pretty nice views. Just wish the weather had been better.
This is somewhat of a unique look at Sandimen and its Taiwan Indigenous Culture Park – 台灣原住民族文化園區. You can also see the Shan-Chuan Glass Suspension Bridge – 山川琉璃吊橋 in the distance.
And on the other side of the ridge…well, the same view as before. But it's much less obscured.
And this is where things started to get messier.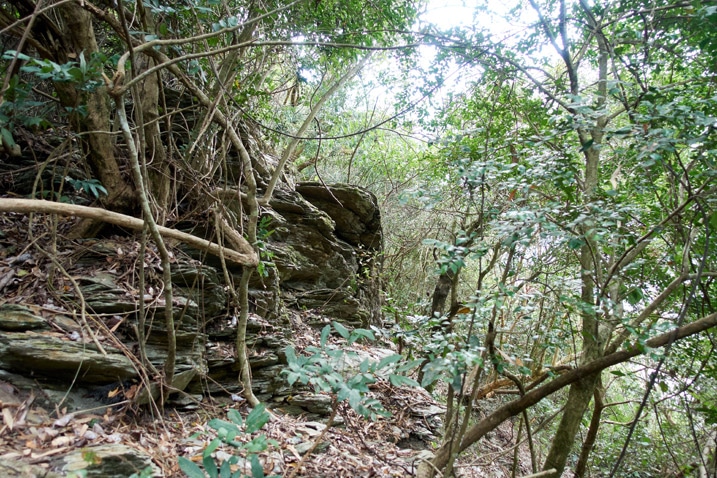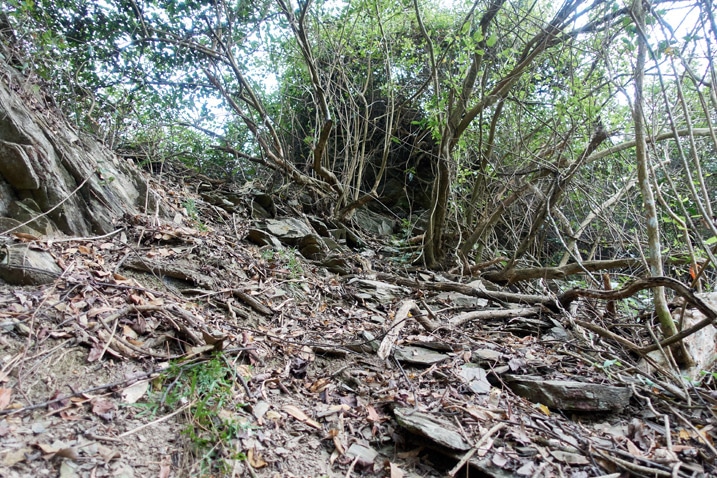 I had to thoroughly push and cut my way through these sections.
But it wasn't long before I had reached my next goal.
DaLaiShan West Peak – 達來山西峰
I wasn't expecting much and I didn't get much. No views and little to see here. I figured that since this wasn't the main peak it wasn't worth my time sticking around. So after a quick rest I snapped some pictures and headed off to the main peak that was only a couple hundred meters away.
Final Push
As I left the west peak I could clearly see the main peak.
Peak to peak means you gotta hike down to a saddle and back up the other side. I kind of wasn't looking forward to that, but whatever…it wasn't much distance.
And it wasn't really so bad…hehe…just a massive tangle of trees and vines most of the way, that's all!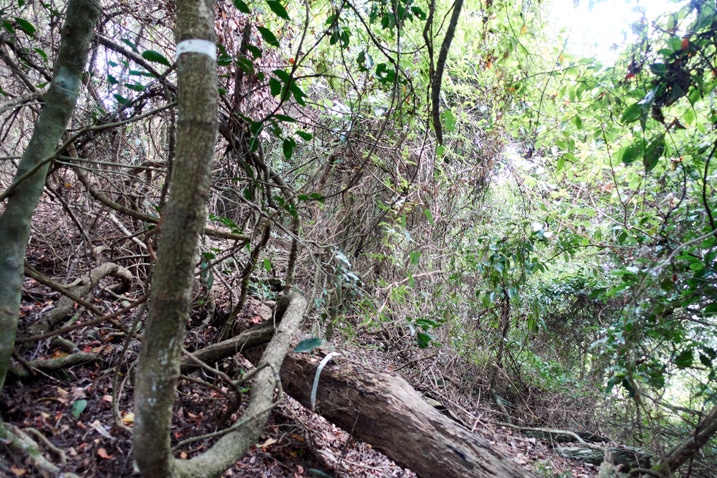 As I remember, it was the most difficult part of the hike. Though honestly, it wasn't really THAT bad. And it did clear up a bit before the main peak.
See…it looks much better, right?
It only took about twenty minutes to cross over to the other peak. So it couldn't have been that bad. Plus, some of that time was spent taking pictures of this thing.
I really don't know what it is. Someone mentioned that it possibly could have something to do with farming. That seems as good a guess as any. There are farms nearby, so yeah, could be.
As to how it got up here? I'd bet on typhoon winds blowing it up. Because it doesn't appear to belong on this ridge. Nothing I saw suggested it. Now, on the other hand, MAYBE it has to do with hunting. That's my only other guess. I've never seen a hunter use something like this, but a hunter bringing it here would explain the why of it. Any guesses?
DaLaiShan – 達來山
I emerged from the jumble of vines and trees onto a glorious peak of gold and shiny things and women of…wait..no, that would have been a dream I had a couple weeks ago. What came next was far less impressive. Boring in fact.
It was even less impressive than the last peak. Granted, I hadn't expected much from any of these peaks, but I suppose I held out some hope that the final peak would resemble some of the final bosses I met in the video games I played as a kid. Worthy? Time well spent? Or something like that.
Well, it wasn't much, but whatever…I had made it and it was time to take a break. A very loooooooooooooong break. Cuz that's when I had decided that I didn't want to try hiking to those other two peaks. It wasn't quite twelve thirty–I had plenty of time–but it just FELT nice here. It didn't look good, but the vibe was just "right". You know what I mean? So I got to relax for a solid two hours before leaving.
Here are some shots of what's to see there.
Actually there's not a whole lot of stuff up there. Well, there's also this…but I'm obviously not a permanent fixture.
Oh, and this garbage tied to a tree. I still don't get it.
The Final Peak
Well, that should be it. But I screwed up and missed the second peak. So let's go get it!
I took very few pictures on the way back. I mean, why would I, right? But here they are to help fill the space. 🙂
For some reason I felt this boulder looked "scholarly" and deserved a picture.
DaLaiShan Northwest Peak – 達來山西北峰
It took an hour and forty minutes to hike back down to the missed peak. Stopping to take pictures was just a formality at that point. My bike was two minutes away and I was ready to go home.
When I had arrived I could see why I missed it on the way up. It was nowhere to be found. I did a little Easter egg style treasure hunt and eventually located it under a mess of overgrowth. Here's how it looked after I trimmed the area.
Other than the stone, there was only that yellow sign on the ground.
And let's not forget my peak picture.
Finished, The End, Done and all that Good Stuff
So that's it. No more pictures and no more wild tales. Total hiking time was something like five hours. But I think most people could shave an hour off that time if you don't stop for as many pictures as I had. And again, it's not all that difficult of a hike so long as you don't mind getting into the thick of it at times.
And I feel this shouldn't need to be said, but do bring a machete.
I'd say this hike should be reserved as a backup hike. If you're in the area and things didn't work out with another hike, then drive over here and hike this ridge. At the very least, make it to the halfway point and get a good look at both sides of the ridge. That part was nice. But why not hike the whole thing since you made it that far?

Date hiked: 2020 Dec 16

GPX Track Download Instructions: Click the track on the map to see the download link
And I'll include the track coming down which shows the exact location of the northwest peak just in case it "disappears" again
Liability Disclaimer
Please read the Liability Disclaimer before using any information within this post, page or any part of this website.