Continuing on my run of exploring abandoned aboriginal villages, I set out to find the Paiwan village named Tanasiu. What I couldn't have known was that it would be easily reachable and leave me with time on my hands. With that, my curiosity took me on quite a little adventure down a random trail – where I hacked my way to the nearby PengJiShan 棚集山 peak. I would meet a couple people along the way and have a few laughs. In total I did a full 14 kilometer unplanned circle–over 11 kilometers on foot–that ended in the dark. I was beat and out of water towards the end, but I wouldn't change a thing.
Here's how it went
I arrived late to DanLin 丹林, the village nearest to the trail head. I had broken the LCD display on my camera at the end of my last mountain trip and as it happened, I didn't get the replacement until quite late the night before this trip. But arriving at 9am wasn't terrible; I just thought it was at the time. As you can see, it was already starting to heat up.
I knew there would be a road to follow that appeared to get somewhat close to the village, but I didn't know how close or in what condition it would be in. When I arrived, it was surprisingly in decent shape! Undoubtedly the few houses and active farms I passed along the way would account for its condition.
As I drove higher, the view improved.
The road eventually gave way to dirt, but it was drive-able though not completely safe. I passed a couple people coming down the road who appeared to be hikers. They were older, so I figured they must be locals out for a morning walk. A minute later I passed another person. Was it possible that this was some sort of hiking area?
The dirt road became single track and started getting steep. It was a bit too steep for my liking, but I continued driving anyway. I passed another hiker (yeah, by now I realized this MUST be a hiking trail) coming down the trail. I had to stop and move aside to avoid an unsafe situation.
Seeing how this turned into an actual hiking trail, I knew I needed to park my bike. I drove up another couple mini switchbacks and stopped. While I geared up another two elderly hikers came down the trail. I stopped the second gentleman and asked about the trail above. He said it went to the old village and had nice views. He also mentioned there was one other hiker still up there. I bid him farewell and started my hike.
Beginning of the hike
A few minutes later I passed the final hiker and had the whole mountain to myself.
As you can see, the trail is in good shape and well maintained.
Signs were posted to keep you on track.
And to encourage you to keep going.
Tanasiu Village
Fifteen minutes after I started I reached the village.
I have to admit, I was kind of disappointed. After last week's tough hike to find Tjuqemadris, I was fully expecting something more difficult.
This area was a rest area of sorts. You can see a makeshift bench on the left of that little path. I dropped my gear there and looked around. There was obviously a house here long ago.
There was a table made from stones in the center. I'm assuming the bowl and cups of water and candy are some type of offering.
There were more stone foundations beyond and the house's altar.
Hidden off to the side was this barbecue-looking thing with three bowls on top.
Notice the small bottle of spirits hidden off to the right.
You can see remnants of the old structures everywhere in the immediate vicinity. I took some time to explore these easy to reach ruins.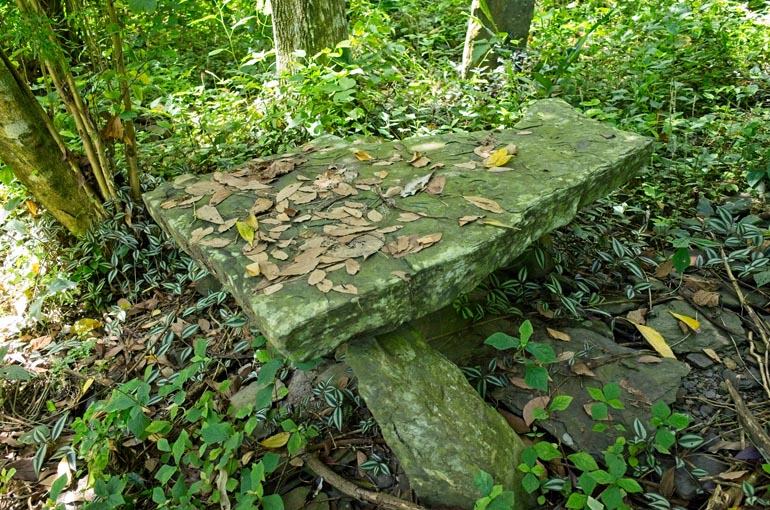 Some of these stones had names spray-painted on them.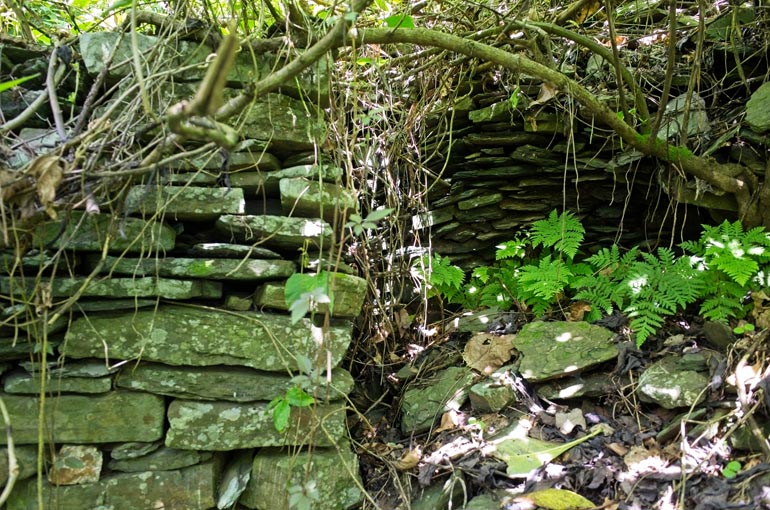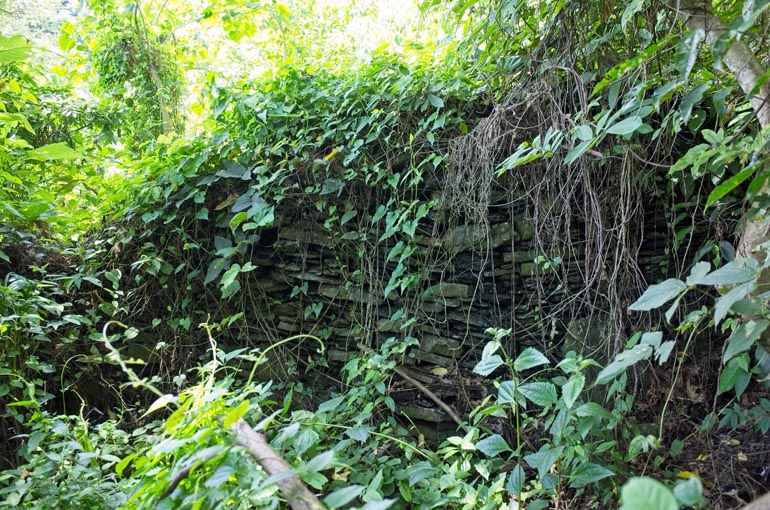 I found a path that led down the mountain to more and more houses. It wasn't all that bad; just this one section.
I found ruins everywhere I turned.
Another stone with a name spray painted on it.
A couple spots in the village offered a nice view. That's Beidawu and Nandawu mountain in the middle. (北大武山 & 南大武山)
I slowly made my way down the mountain and found more structures. It seemed they would never end…
…until they finally did. Or so they appeared to end. I couldn't find a path that continued going down the mountain. Though I do suspect there used to be one and likely there are more houses further down.
Here is where I decided to find a different path back up to where I started…but first I had to make my way through this mess.
On the other side of all that was this plot of land that used to be someone's house. Just think of it…someone spent their whole life in and around this exact spot–maybe even died here–and now it has been reduced to this.
I hiked back to the top in short order and took a little break before deciding what to do next.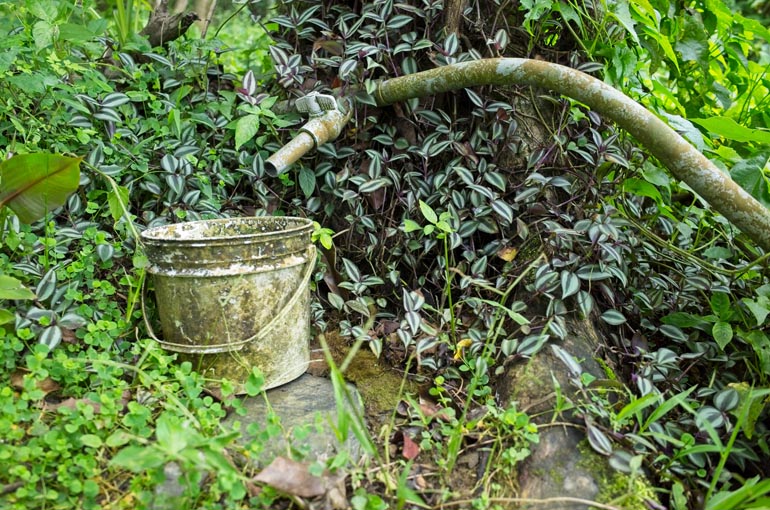 Off to the side on the main trail is this water source. I really should have refilled what little water I drank up until this point. I made the bad decision to leave some of my water back at my bike because I thought I would return just as soon as I finished exploring the village. Little did I know, I wouldn't be returning until 8pm.
Village History
This seems like a perfect time to give a little history about Tanasiu village, known as タナシウ in Japanese. If you're not interested, then skip on to the next section.
In October, 1953 the residents of the village were relocated closer inland to what's now known as DanLin – 丹林 and YiLin – 義林. I'm not sure if they were forced to relocated, but I would put my money on them going against their will.
According to a document I found, there should be 84 households in Tanasiu. If that number is correct, then I don't believe I saw even half that number. As you'll see in the next part, there are more houses going up the mountain. As I mentioned, there must be a lot more going down the mountain.
On a side note, I've had a working theory that the closer the inhabitants were moved from the original village, the better the shape that village would be in. Four villages I have visited, Kulalangau, Vuri'ilj, Terdreka, and Vungalid are all in decent shape. Villagers from these places relocated relatively close by. Tjuqemadris on the other hand is in terrible condition – villagers relocated quite far away.
Tanasiu village seems to destroy that theory. I wouldn't say the village looks awful, but not a whole lot of upkeep has been done compared to the other four. It's certainly possible that the decedents of Tanasiu aren't as active in the upkeep of their old village, but I would postulate a different reason. Given the steep layout of the village, it would be difficult–or at the very least an extremely tough job–to maintain the village. You would basically need to hike up to the village with all the tools and get to work. The other villages in good shape all had roads to take you right to the village center.
With this new info, my new theory is: The easier it is to get to, the better shape it will be in.
It does seem kind of obvious, huh?
Mountain Retreats
After throwing water all over my head several times from the water source, I followed the trail up. I had noticed something blue earlier that looked like a tarp strung up between trees. At the very least I wanted to see what that was all about. After that I would probably turn back.
Shortly after starting the uphill climb, I found another water source. This one had a sign telling you not to waste water.
Across from the water source was this little "rest area".
There were a few more houses to see around here.
This house had an actual printed sign in front of it. I can only assume Ljivangrav is a family name. But please correct me if I'm wrong.
There were some views up there, but not as nice as I had been led to believe.
I found several more "rest areas" as I hiked. Here's one of them.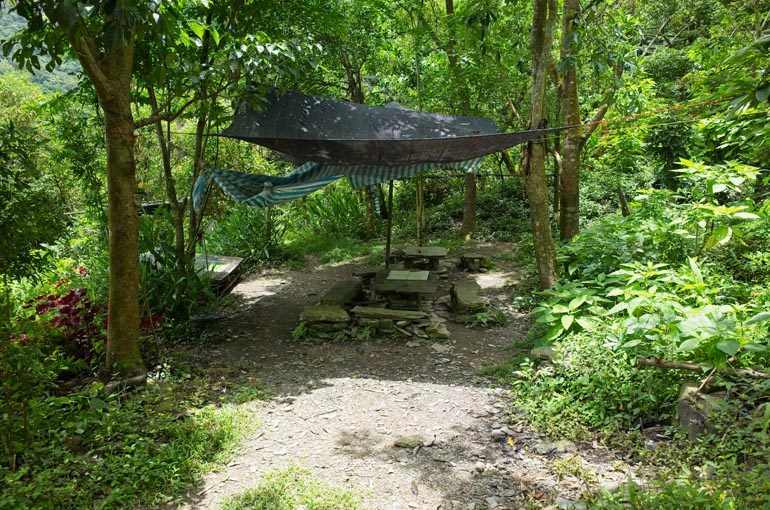 This area was beginning to look more and more like a smaller version of LiDingShan 笠頂山 in Majia 瑪家. A lot of people must hike up here on the weekends to relax with their friends in one of these claimed areas. I didn't find the blue tarp area yet, so I continued onward.
My plan at this point was to quickly finish exploring this area and then hike back to my bike so I could ride to the nearby PengJiShan 棚集山 trail head. I had plenty of time to complete that hike. But once again my plan changed when I saw this sign.
It pointed to a small trail headed up the mountain; obviously going to PengJiShan. What luck! But I wasn't ready to start that part of my hike just yet. I still needed to find the blue tarp and all the wonderful secrets it must hold. haha…
This sign was also nearby. I can't tell you what it means. Just a name I guess.
I don't have a picture, but a short walk later I found the source of all the water. There's a little stream with a nice rush of water that all of these PVC pipes have tapped into. Another short walk brought me to the blue tarp. It was quite anticlimactic.
Just beyond this spot on the main trail, and I shit you not, was a shower. It was a makeshift shower at best, but had a curtain and a water flow. Not bad I guess. And for whatever reason I thought it not interesting enough to take a picture of it. Oh well.
I probably should have turned around at this point, but I had to know where this trail went. There didn't seem to be anything beyond the shower. I mean, why would they put the shower on the trail if people regularly used it? A PVC pipe followed the trail, so at best it probably went to that water source. It seemed a waste of time, but I had to see for myself. You never know…
The Exploration Hike
I followed the water pipe a ways until I came to its source.
I was curious so I followed the pipes inside a bit. There wasn't much water flow and it didn't sound like there was anything interesting ahead (read: waterfall) so I turned around. And maybe that rope strung across the stream with the red flag as a warning might have had something to do with that decision.
The trail continued around the mountain and I followed it for a bit. Eventually it almost disappeared. Most people probably would have turned back and went for the peak, and I probably should have. But…there was a trail that led this far. Where did it lead? I really had to know. I found where it picked up and later it became a nice little single track trail again.
About ten minutes later I had a decision to make. What looked like an old road broke off from the main trail and headed up the mountain. The main trail appeared to keep going straight and follow the contours of the mountain like it had been doing so far. I chose the road because well, an old road seemed like "history" to me, which I like. Maybe there was some old farm building out there or something else interesting. Who knows? Also, it appeared to be going roughly in the direction towards PengJiShan. So old mountain road it was!
There was a decent view of the river and mountains from around this spot. There are several coffee shops and restaurants on the ridge of one of those mountains. It's kind of cool getting to see this area from this vantage point. There's no spot other than here to get this kind of view.
I hiked the road a short while…
…until I reached the end.
There were these tall plants all over the place. I'm sure the road continued on in some direction, but these plants blocked all trace of it.
I made my best guess where the road might have went, unsheathed my machete and chopped my way in that direction. I should mention how HOT it was here. These plants were permitted to grow this wild because there were few trees to block the sunlight. The lack of trees further supported my theory of there being farms out here in the past. A good fifteen minutes of hacking later and I found my next clue of farm activity: a PVC pipe headed up the mountain. Thankfully the tall plants had ended and shady trees took over.
I wanted to follow the pipe, but it went through some pretty hard-to-navigate places. So following the land features, I slowly pushed my way up through the wild forest.
The Worst Possible Route to Pengjishan
Unfortunately, the most painfully interesting section of my hike is the one with the least amount of pictures. When it gets rough and I'm constantly swinging my machete, taking pictures goes right out the door. This next part is no exception.
I slowly climbed the mountain, bushwhacking the whole way. For the most part it was pretty difficult, but I wasn't about to turn around. I kept going until I was rewarded with what I thought was the road again!
I know it doesn't look like much, but at the time I really thought this must have been the road. It might not be the same road I was following, but it was a road. It would make things a bit easier for sure.
When I got back home after my hike I searched some maps to see if there really was a road network out there at one time. According to this map, yes there used to be something there. The green arrow points to the area I followed the road.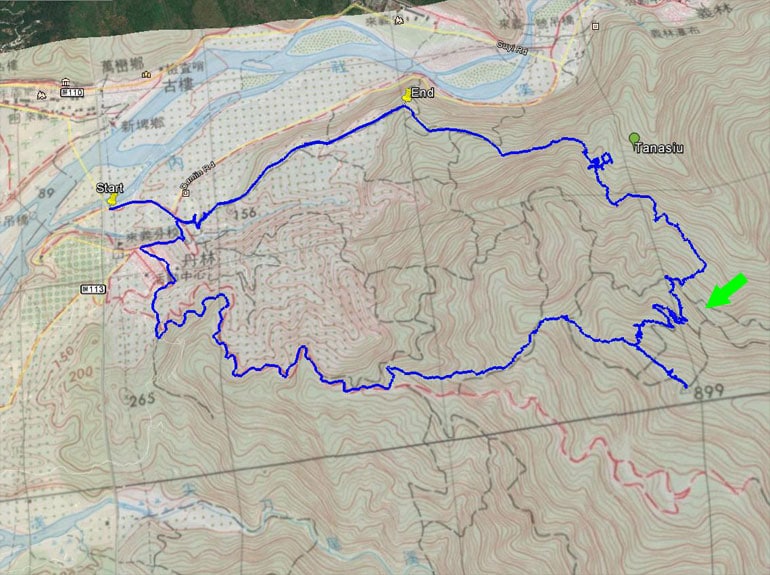 From here I looked up and saw what must have been the next level of the road. It was steep, but would save me a bunch of time rather than weaving my way to the switchback.
So I cut up to the next road, and to the next and to the next. I'm not certain how many times I did this, but the last time I tried cutting up, there wasn't a road to find. So I had to go back down and follow the road up.
Boy did this suck! There were places you couldn't pass at all. It was hack your way through or nothing. Vines grabbed me everywhere; my hiking pole was useless.
Pro tip: Stow your hiking pole(s) when bushwhacking. They'll only get caught up on everything and get in the way.
While we're at it, here's another pro tip: Carry some type of easily reachable knife in terrain like this. There are a lot of vines in various sizes that will grab you and your pack. Your machete can cut some of these, but it's easier to grab a much sharper knife to free yourself. Trust me on this. You'll thank me later.
I was getting to the point of no return. Pengjishan wasn't too far away, but there was a lot of elevation gain between me and the peak, or rather, to the ridge trail that would lead me to the peak. I would need to turn back soon or commit to my present course given the time I had left. Of course, I kept going up.
Later I came to some sort of junction without realizing it. I took the path roughly going the same direction I was hiking. But after about ten minutes I noticed I was going downhill. I was also somewhat headed in the wrong direction. So I turned back to see if there was a less steep spot I could cut up the mountain. I thought this was the place I would have to abandon the abandoned road. Hahaha.
When I got back to the junction I could clearly see where I went wrong. Great! I followed the road in the other direction and it went up.
Somewhere along the way there was a break in the trees and I could see out. I can't tell you how comforting it is to get a window like this in a jungle-like environment.
You would think that I would have seen a lot of nature while bushwhacking my way through the mountains, right? I mean the little critters running around. But I didn't see a single animal. Some birds I guess, but no wild boar or anything else. The best I found was this abandoned bee hive.
This fungus was kind of cool, but hardly interesting.
After a lot of hard work following the road, I came to a show stopper.
It was difficult to even tell if the road went along this tangled mess. I'm pretty sure it did, but this overgrowth seemed to have no end. I hacked and hacked and hacked. It was hot and I was tired. Drawing a straight line up to my goal, the ridge trail, I was within 150 meters or so of it. My topo map showed that if I followed this path I would eventually link up with it. It wasn't so direct but had very little elevation gain. But again, this overgrowth didn't look like it would end anytime soon, so I turned around.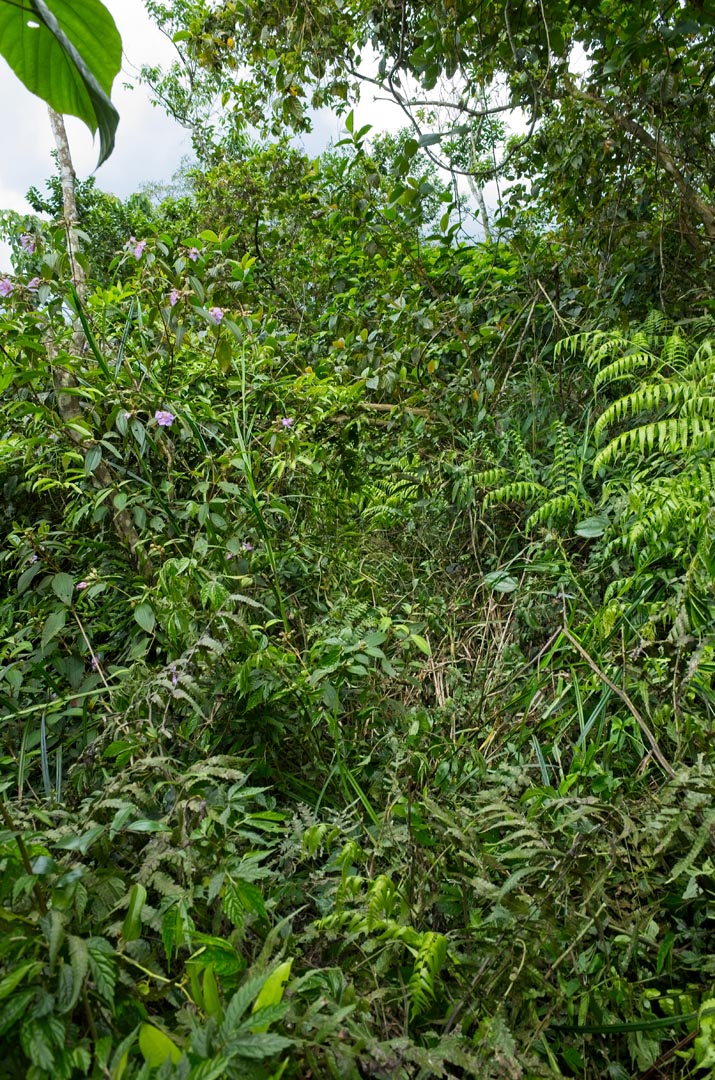 All that work for nothing…
Push to the Ridge
I had remembered a sort of ravine or valley-ish land feature that wasn't terribly steep that went up the mountain. Imagine a path that water might take, but not a stream. It was something like that, but much wider. I hiked back and followed it up. It wasn't steep in the beginning but gradually became pretty steep. I kept looking back at my map to see how much further to the ridge. 150 meters…100 meters…50 meters…I was at the point of mountain climbing now; nothing you'd need a rope for, but steep.
I climbed, jumped for a tree, rested and repeated again and again until I was sure I must be near the ridge trail. It felt like I was hiking MUCH further than what I estimated, which actually is true. The straight line I used to estimate the distance didn't account for the elevation gain. So who knows how much distance I really had to hike.
Well, eventually the steepness leveled off some and I could make the final push to the ridge. Several steps more and I could see the trail! You have no idea what a relief that was! There were a lot of vines and overgrowth between me and the trail to deal with, but I made it.
Final Hike to Pengjishan
All I could think about was taking a break. But there was no place to sit down. I followed the trail up hoping to find a suitable place to rest, but there was nothing. So I said fuck it and just plopped down on the trail where I stood.
Now I want you to imagine this. I'm laying there in the middle of a single track trail looking like I had just been shot and bleeding out, when suddenly this old man comes hiking up from below. He's got this bewildered look on his face. I mean, who just lays down on the middle of the trail like that!? He looks at me and says something to the tune of "Yeah, it was a tough hike. Go ahead and take a break." Hahaha… <—–(That was him giggling) Then he walked around me and disappeared.
I hadn't the energy nor the care to explain my situation at that moment. However I did later feel the need to catch up to him at the peak to tell him my story. I mean, here's this forty-something year old guy dying on this trail that this 60+ year old man has easily climbed. I couldn't let him think I was some kind of wussy, right?. 🙂 That was enough to help pick myself up to hike the rest of the 150 meters or so to the peak.
PengJiShan 棚集山
My feeling upon arriving at Pengjishan was, how can I say it…mixed. I was happy that I could take a long rest and eat what food I had brought, but I was also disappointed. Pengjishan is one of the XiaoBaiYue 小百岳 – one hundred lower peaks chosen by (someone?) as being worthy to climb. I don't know what criteria was used for that list, but if it's similar to the famous Baiyue 百岳 then "uniqueness, danger, height, beauty and prominence" may be part of it. Pengjishan was none of those. Granted, I hadn't hiked the full trail. Maybe the lower part of the hike was spectacular. The peak? Meh…
The first thing I did at the top was drop my gear.
The old man came over and offered to take my peak picture. I was more than happy to let him.
I spent a good hour resting myself for the trip back down. The old man and I had a chat about my unusual route to Pengjishan and typical small talk you would have when meeting someone for the first time.
Before I left I took some shots of the area.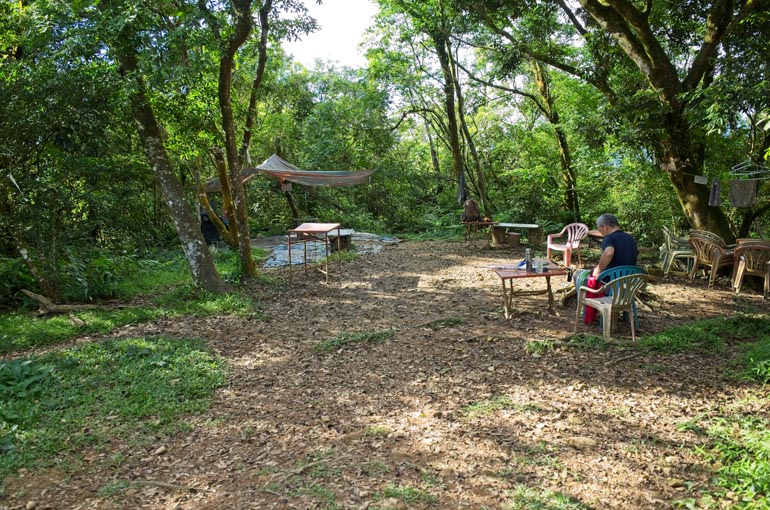 The Trip Back Down
I had a big decision make. Obviously I couldn't go back the way I came up. Initially my plan was to find where the trail that began in Tanasiu linked up with the main trail to Penjishan. However, when speaking with the older gentleman, he mentioned it wasn't in good shape. A lot of trails I hike are in bad shape, and I was pretty sure that my definition of "bad" was different from his. But I didn't have time or spare water to mess around with a bad trail. I also worried that the trail might overlap with the old road I took earlier. If that was the case, then I was in for some problems. So I hiked down to find the junction and would make my decision there.
It wasn't long before I reached the junction.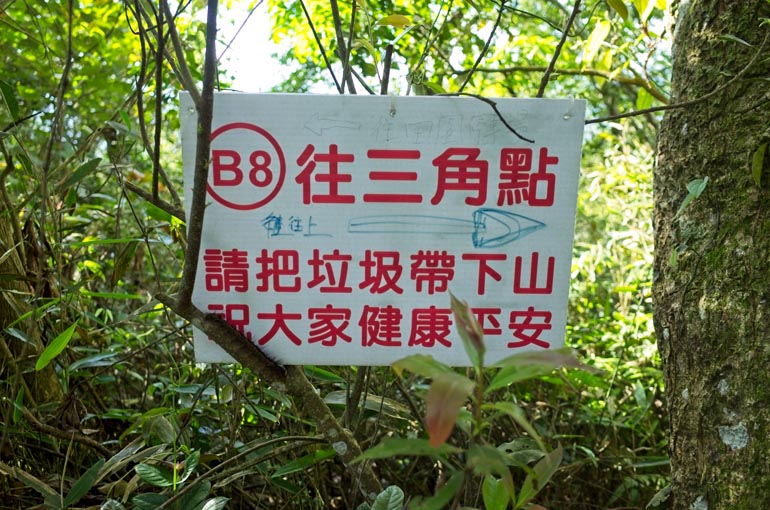 When I arrived, I didn't like what I saw. There was a trail but it didn't look well used. I'd probably be fine, but I didn't want to chance it – it was 4:45pm already.
Going down the main trail would put me kind of far from my bike. I was looking at a 5 kilometer hike to reach DanLin village and then about another 3 kilometer hike up the mountain to get to my bike. It would be tiring in my current conditions, but oh well…
Only a few minutes after I started down I came across PengJiXiaShan 棚集下山. I was in no mood to take a peak picture.
I'll skip the trail details of my hike down, other than to say that this trail is well used and has plenty of hiking aids.
Needless to say, some of it could use refurbishing.
There were a few rest areas along the way.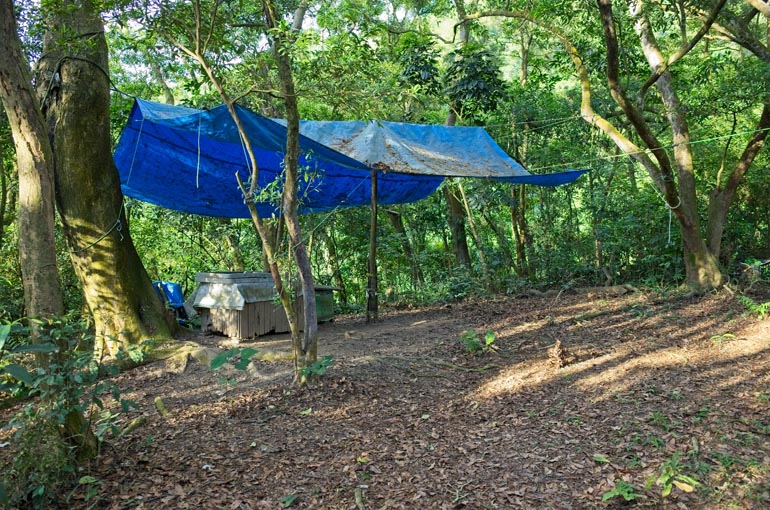 About two thirds of the way down the trail connects up with a dirt road. This crossroads is just down the road. You can choose to either take the road down to Danlin or the trail. I was in a hurry so I took the road.
On the way down there are some views of the other side of the mountain.
And more views of the side of the mountain I had spent most of the day hiking.
It was darker than that picture represents. Here is me playing around with my RAW file – it wasn't quite this dark, but somewhat close.
Towards the end I passed a couple of these little gazebos. I stopped at this one for a rest. By now I was completely out of water.
Good luck would have it that a woman I saw hiking up the trail thirty minutes earlier was now coming down. She stopped to have a chat. She had some tea named Pu'er cha 普爾茶 that she gave me to drink – probably 800cc's worth. It was a godsend. And pretty darn good too!
I didn't tell her that I ran out of water. I was close enough to the village to buy some when I arrived, and I didn't want her giving me what little water she probably had with her.
After a short chat we started down the trail together. She offered to give me a ride on her scooter to help cut some of the distance to my bike. I was a little dubious of how this would work; she's not all that big compared to me. But I wasn't about to turn her down – I really needed that ride!
Back to the Bike
We made it to Danlin just as dark set in. This was ten minutes earlier:
She gave me a ride that equaled about 800 meters…all of which were going downhill or on flat ground. :\ It got to the point where there were no street lights. She was unfamiliar with the area so she asked if it was OK to drop me off this far from my bike. I couldn't say no. We said goodbye and I started my looooooong uphill trek to my bike.
It must have taken me over an hour and a half to make it to my bike. The uphill climb was brutal – even on the easy concrete road. I was so tired and still quite thirsty (I forgot to buy water in the village – doh!) so I stopped often to rest. I took advantage of a couple of these stops to mess around with some nighttime pictures.
Something ridiculous happened after taking the above picture. I was sitting on a large boulder with my camera on a mini tripod next to me. I suddenly heard a small rock fall from above. The next thing I knew, my camera was hit and fell to the ground! Keep in mind I had JUST replaced the LCD screen the night before. What's the chances!? Anyway, it was OK.
And that's pretty much it. I made it to my bike in utter exhaustion. Now I had an hour and a half ride back home – one that started with a steep downhill trail. Ugh…
BTW, hiking at night has some advantages. There are plenty of little critters to see. Here are a couple.
Hiking Note…or TL;DR
If you decide to hike to Tanasiu, DO NOT…I repeat DO NOT follow my GPX track past the village. You are likely to get lost and/or hurt. If you're interested to hike to Pengjishan after visiting the abandoned village, I would suggest riding back down the mountain to the trail head in Danlin village. Or, and do this at your own risk, you can follow the trail from the village to the peak that I mentioned above. There is a sign there to point you in the right direction. Good luck and enjoy!
Date hiked: 2019 June 06
GPX Track Download Instructions: Click the track on the map to see the download link
Disclaimer: By downloading this GPX file you agree to take full responsibility for your navigation and you acknowledge that you've read the "Hiking Note…or TL;DR" section above.
Liability Disclaimer
Please read the Liability Disclaimer before using any information within this post, page or any part of this website.